SPL v Dundee United
DUNFERMLINE 2 DUNDEE UNITED 3 Date: 25/11/00
This was a match where Dunfermline lost their captain, a penalty, two players, three goals, three points, and millions of points in the Fair Play league while relieving United of one of the most unenviable records in British Football. 50 weeks without a league win the Green Tangerines were helped by the inconsistent decisions of Scotland`s leading SPL card flasher. Already heading the averages with ten cards in his two previous SPL matches this season, John Fleming stretched his lead by showing TEN more in this one game.

United kicked off and immediately kicked the ball into touch. This was not untypical of what followed for their passing throughout was dubious. Sadly, it seemed even before Dunfermline had made a pass, Ian Ferguson pulled up holding his leg. It looked like hamstring problems so Lee Bullen was back in the team after just five minutes.


Scarcely had the substitution been made when a low Jason De Vos cross evaded everyone except Sean O`Connor who collected the ball on the 18 yard line and shot, unchallenged, passed Marco Ruitenbeek to the delight of the home fans behind that goal.


The traffic all seemed to be flowing east as Dundee United revelled in the unique experience (for this season) of scoring a first half goal.


Charlie Miller`s through ball to Beto Naveda in the 16th minute split the defence but was excellently saved with his feet by Marco a couple of yards outside his box. The home team had the possession and territorial advantage at this point.


The Pars best effort of the first half came on 28 minutes when a corner kick bobbed from Skerla to Crawford and back before Justin Skinner pick up the clearance and sent a fierce shot on target which was ably collected into Alan Combe`s arms. Play switched to the other end and having played out the advantage to a dead ball situation Referee Fleming yellow carded Youssef Rossi for a wild tackle while choosing to ignore a dive from Beto Naveda that should have seen matching yellow. Instead we were left us considering what is the maximum allowed for artistic impression. Charlie Miller forced Marco to save from a free kick and then got in a shot which went wide as the rain poured down.



In the 44th minute slack defending allowed the ball to go out left for Neil Heaney who had come on for O`Connor. The substitute rounded Andrius Skerla and crossed for Craig Easton. Despite the close attentions of David Moss who had tracked him into the six yard box the young United man`s diving header put the homesters two goals up. Easton was yellow carded for celebrating his goal.



To go into the break two goals down would have been bad enough for the Pars but one minute into time added on at the end of the first half, Youssef Rossi`s tackle on Naveda included a kick at the United number 9 and there was no doubt that it was Rosso for Rossi. Referee Fleming was right on the spot to pronounce it You is off. To make matters worse the Moroccan`s digital gestures to the United faithful might not go down to well with the enforcement authorities.


As the large travelling support which must have been into four figures consumed their half time pie there were few who could look forward to the second half with optimism. Stephen Boyle replaced Jason Dair as the defence of Thomson, Skerla and McGroarty were left to look after Naveda and his occasional support. Justin Skinner pushed forward as remarkably things changed completely for the second half. Within the first ten minutes of the second half the Pars had overtaken their first half tally of attempts on goal.



Firstly a Scott Thomson cross found David Moss but his header went to Combe. Next Stephen Boyle from wide on the left found Stevie Crawford and he hit a shot that just cleared the crossbar. Crawford then provided a ball for Barry Nicholson to send over a dangerous cross from the right.


With 58 minutes gone more Pars pressure as Crawford fed the ball out right to Lee Bullen whose cross was headed over by Moss. Craig Easton collected another yellow card for a reckless foul and joined Youssef Rossi in the changing rooms. Jim Lauchlan was fortunate to get away with axing Boyle in the penalty box but justice was done a minute later when a Barry Nicholson cross from the right was knocked down by David Moss for Lee BULLEN to slot in from 6 yards.


When a Barry Nicholson free kick went out for a corner, Dunfermline then got right back into the match with a 64th minute goal from David MOSS. This time Nicholson corner from the left was high enough to escape intervention and the Pars top goalscorer was on hand to head in off the back of his head from close range greatly assisted by the lack of a defender on the post.


Lee Bullen chased on to a ball deep into the left side of the United penalty area but just failed to keep it in play. Despite looking more likely than United to grabbing the winner it was United who next came closest when a free kick from the right almost let Heaney in to nick one at the far post.


Dundee United looked fearful of the threat of defeat, maybe it was the taxing of their memories to try to remember what a win bonus felt like but Dunfermline continued to try for a winner that seemed impossible at half time. This fairy story comeback however wasn`t allowed to have a happy ending.


Jamie Fullarton took a corner on the right and with five minutes remaining Moss and De Vos challenged for the ball. The Canadian was denied a header as Mossy used a hand to clear the ball. No question about the decision which was one of the few Referee Fleming got correct; another yellow for David Moss and down to nine men! Chalie Miller made no mistake from the penalty which many United supporters couldn`t bear to watch.


Three minutes of time were added to the half. Marco Ruitenbeek came up for a corner and just failed to connect. Then the keeper was back to use his feet to keep Naveda out after McGroarty`s slip seemed to have given Naveda a sitter.


Not a good day at the office. The team will need to put it behind them and rally to meet the Jam Tarts on Wednesday. Without Rossi, Moss and probably Ferguson there will be opportunities for other squad members to prove their worth.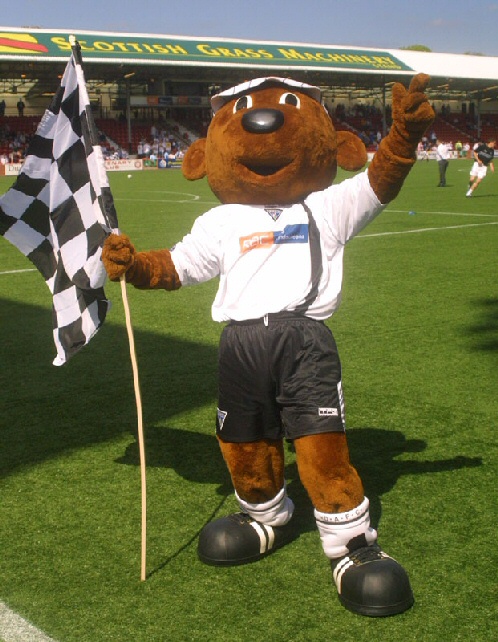 Sammy says thanks very much for visiting our web site where we have lots of news for young Pars fans.