SPL v Rangers
DUNFERMLINE 0 RANGERS 0 Date:18/11/00
Rarely can Pars fans have enjoyed a goalless draw so much. With a power problem in the Main Stand delaying the match by 15 minutes there were omens that it might not be Dunfermline`s day. But when the match did get under way there was no doubt which team was going to generate the headlines.








Jimmy Calderwood was justifiably proud of his Pars team and with Moroccan internationalist Youssef Rossi making his long awaited debut. A calf injury cruelly denied Ian Ferguson a showdown against his former club but Dick Advocaat must be questioning his decision to let Barry Nicholson leave Ibrox. This was a hard worked point from a team in which there were no passengers.



Marco Ruitenbeek had so many saves and good judgement that he has to be our Man of the Match totally redeeming himself for last Saturday`s disappointment.



Dunfermline kicked off towards the East Stand and immediately looked like they were there to compete. Lee Bullen had a cross from the left cut out by Wilson but warning was truly served moments later. Chris McGroarty playing left wing back cut the ball back to Jason Dair who let go a terrific drive from 20 yards out. Stephan Klos made a fine diving save.



Rangers replied with Michel Mols heading an Amoruso cross into danger. Stevie Crawford didn`t quite connect correctly with a Scott Thomson cross and after 17 minutes Crawford almost took advantage of a free kick from the left when he ghosted into the right side of the penalty box.



Youssef Rossi who made telling tackles all day and displayed scintillating skills when on the ball, was yellow carded a minute later when he tackled Kenny Miller from behind. Miller raced the length of the Dunfermline half and despite Andrius Skerla at his side all the way; he did get a cross in which Rossi stuck behind for a corner.



When Justin Skinner was penalised for a tackle on Ronald De Boer 30 yards out the Par had to leave the park for attention. In his absence Jorg Albertz hammered a typical Albertz free kick effort that Marco Ruitenbeek fisted away. Scott Thomson was doing really well in midfield picking up De Boer. On 31 minutes De Boer got away from his maker (for about the only time in the match) and Marco Ruitenbeek again was on hand to collect from his countryman.



David Moss rose to a Chris McGroarty cross from the left, his header fell outside the right post but was penalised anyway for a foul. His protests earned him a talking to from Referee Dougie McDonald. Kenny Miller almost cashed in on a bizarre pass back from Andrius Skerla and Arthur Numan was allowed a shot at goal from 20 yards out when the 11 Pars defending a Rangers corner stuck themselves inside the box. Then a minute from half time Barry Ferguson, looking suspiciously offside found himself deep into the left hand side of the Dunfermline penalty box and rolled the ball across the face of the goal but there were no Rangers players awaiting. There should have been, goodness knows where the attack was.



SECOND HALF



At 4.19pm Rangers kicked off with their support working really hard to raise their team. This was certainly the most impressive vocal encouragement heard at East End Park for some time and it did translate into rhythm from the blues on the park. For the first 15 minutes Dunfermline were severely tested but survived the assault on all faces.



In 52 minutes Miller, Mols and De Boer looked like they had carved a way through with short passing into the right of the penalty area and with defenders diving in all directions the ball was not allowed to find the net. Amoruso fired over a free kick that Rossi deflected away from a group of ten players hovering around the penalty spot. Three minutes later Barry Ferguson hit Ruitenbeek`s right hand post with a shot from 25 yards out. Next minute an Albertz shot sailed over the crossbar.



Lee Bullen was withdrawn after 59 minutes, Eddie May coming on in midfield and David Moss moving up front.



On the hour the defence of a corner resulted in the ball landing nicely for yet another strike from Ferguson; this time the shot was probably going wide but a deflection was fortunate to land in big Marco`s arms. Through a gap in the Rangers defence, McGroarty slipped a pass to Stevie Crawford but neither he nor Scott Thomson could get a shot in.



Neil McCann was scarcely on the park for three minutes when he fiercely connected with an Amoruso cross from the left. Ruitenbeek parried the shot and luck was with him as no one was around to net the rebound. Chris McGroarty injured his right calf and substitute Steven Hampshire came on. The Rangers pressure continued with another Albertz free kick saved, a Miller shot blocked by Rossi, and Albertz firing wide left from 20 yards.



74 minutes gone and Konterman ended a fine attacking run by Stevie Crawford by dumping the Par unceremoniously. Skinner and Rossi stood over the ball until the Moroccan decide to unleash an on target shot that Klos got down to the left save.



Time was running out for the increasingly desperate Bears and when David Moss was sent clear from a Crawford pass it looked that they might well have their porridge stolen. Mossy shot from 20 yards when he might have done better to get into the penalty box first. Eight minutes from time an Albertz shot from the edge of the box was well saved by Ruitenbeek.



Steve Hampshire found Scott Thomson who carried the ball forward before hitting a left footed shot that curled past the far post. Rangers fans decided to leave as the home support rehearsed celebrating a point. Flower of Scotland and Away, Away Away boomed out from the Norrie McCathie Stand. There was no twist in the tail as there had been the previous week and the fighting Fifers played out the added three minutes at the end before Dougie McDonald called it a day.



For the Pars fans in the 11431 crowd this was a match to remember and with Youssef Rossi get a rousing ovation one might just believe that this is new era Pars.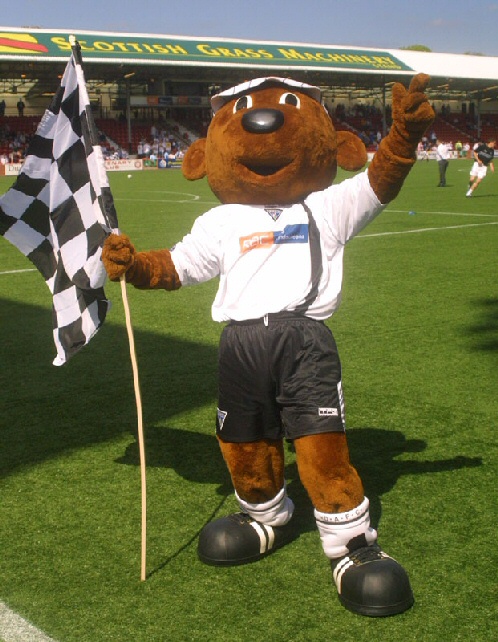 Sammy says thanks very much for visiting our web site where we have lots of news for young Pars fans.