SPL v St Mirren
ST MIRREN 2 DUNFERMLINE 1 Date: 30/09/00
Dunfermline chose to play a sluggish first half that cost them the points. Jimmy Calderwood said the "the fans paid for 90 minutes and we only played for 45!



Dunfermline made space for ex Saint favourite Junior Mendes; David Moss was pushed deeper and Jason Dair again found himself on the bench. St Mirren fielded their new striker, Graham Fenton from Leicester City.



From the start the Buddies were much sharper and more direct. St Mirren were hungrier for the ball and for a result from this match. The Pars didn`t compete until they were two goals down. There were only 4 minutes on the clock when David Moss headed out from under his own crossbar.



The early pressure came from St Mirren and Dunfermline`s only venture forward was after ten minutes when Moss and Bullen couldn`t get on the end of a Scott Thomson cross. Fenton was providing Saints danger but their opening goal came from a defender midway through the half. A Ricky Gillies corner from the right was headed in forcefully from six yards out by Jamie McGowan and Marco Ruitenbeek did really well to stop it. But the keeper was unlucky when McGowan got to the rebound first and he hit it between Nicholson and Mendes on the line.



Love Street erupted with the relief of their first league goal in three starts. Dunfermline tried to get back into it in 28 minutes when Barry Nicholson hit the side netting from 25 yards out. Next Michel Doesburg`s cross was directed back for Lee Bullen but his shot was wayward.



Then just as the homesters were concerning themselves with defending a lead Dunfermline let them double it. Their 32nd minute goal arose from poor defending inside our own penalty box with McGarry being allowed to twist and turn to set up Mark Yardley. The former Blue Brazil could have been done for loitering on the penalty spot as he waited for McGarry`s pass but his intent was clear as he fired home to bulge the net. The surprise really was that such a large guy was not noticed and given a marker.



Five minutes later Andrius Skerla had a left footed shot high over the bar after Barry Nicholson had loaded him the ammunition. As play switched back to the other end Saints, Nicholson - Iain sacked Fergie and his 25 yard shot was tipped over by Ruitenbeek.



Dunfermline kicked the second half off towards their 800-900 fans in the away stand. Bullen and Moss lined up wide left as Mendes tried in vain to play the ball out to them in what you would have difficulty in believing was a rehearsed move. That poor start was corrected as the Pars drove forward no doubt fired by the two Jimmy`s half time curses.



McGowan was fortunate to see his back header go wide for a corner left. Scott Thomson met Nicholson`s corner and his downward header slipped past the post. Next minute Ruitenbeek was in action tipping behind a Gillies cross. Ian Ferguson managed a good solid strike from 25 yards which went straight to Roy to earn him his first "save" of the match.



Justin Skinner and Ian Ferguson were both yellow carded as they continued to throw it about a bit. Then Fergie lost out to Fenton on the left and the new man was unlucky not to put the game out of touch when he hit the sidenetting from only 10 yards out. Both teams committed their first substitutes as the luckless Mendes was replaced by Jason Dair and an obviously below full fitness Fenton came off for Quitongo.



Andrius Skerla had a 35 yard effort that was turned out for a corner and from that corner Dunfermline eventually got into the game. Barry Nicholson` s flighted ball was only cleared as far as Jason DAIR standing on the edge of the penalty box, the right hand side. Dair blasted a beautiful right footed shot past the St Mirren defences to the delight of the Pars fans behind the goal. 64 minutes gone 2-1.



Two minutes later Skerla drove forward demonstrating new skills and linking with Stevie Crawford which delighted but surprised none of the Dunfermline support. He got in a shot but it went wide. Next a Dair cross from deep left provided Lee Bullen but his half shot was easily dealt with by Roy. With 74 minutes gone Barry Nicholson was next to come close as he despatched another Dair cross across the face of the goals.



The sun came out but failed to shine on Crawford as he shot past Roy`s left post. Then Ian Ferguson was yellow carded for a silly tackle on Quitongo and the Pars were down to ten men. The ten fought hard in such a way that if the eleven had started this way, St Mirren would have been easily seen off.



Skinner got deep into the box on the right and Crawford had a shot, then Crawford had another that was deflected for a corner. There was still belief that something could be retrieved from this disaster, but as the team all pushed up chances fell to St Mirren that would never have materialised under normal circumstances.



Marco Ruitenbeek saved twice from Iain Nicholson in 83rd and 85th minutes and on 90 Jens Paeslack was denied by Marco`s feet.



The Love Street tannoy boomed out "Celebrate Good Times" at the end. Well they had better have a good recollection of that first half because they were a fairly ordinary outfit in the second and did little to suggest that there will be many more "good times".



St Mirren: Roy ,Nicolson ,Turner ,McLaughlin ,McGowan ,Murray ,Gillies,Walker ,McGarry (Renfurm ,72 ) ,Fenton (Quitongo 63 ), Yardley (Paeslack 86)

Subs not used: MacKenzie,Scrimgour,


Dunfermline: Ruitenbeek, Doesburg, Skinner, Skerla ,Thomson ,Mendes (Dair 57 ), Ferguson (sent off 77),Crawford ,Bullen (Nish 28 ), Moss, Nicholson

Subs not used: Scott Y Thomson, Tod, McGroarty


Bookings: McGowan ,Murray ,Yardley (St Mirren) Ferguson ,Skinner (Dunfermline)


Attendance: 5002



Referee: John Fleming (Scotland)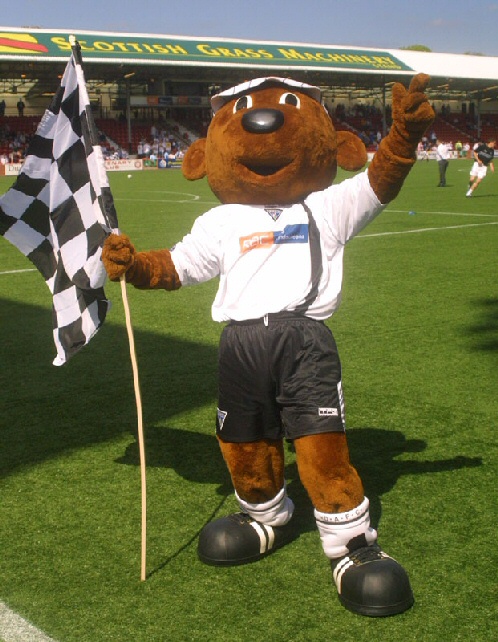 Sammy says thanks very much for visiting our web site where we have lots of news for young Pars fans.