SPL v Hibernian
DUNFERMLINE 1 HIBERNIAN 1 Date: 23/09/00
1521 becomes significant in history? Maybe there is something about Baltic history that we are missing but just why did a Lithuanian and a Finn continue a war today that erupted when Skerla conceded a penalty 21 minutes in the tussle.









After the nationwide Sky TV audience witnessed how determined Dunfermline could be against league leaders Celtic, Alex McLeish brought his second placed Hibs team to East End Park in full knowledge that it would not be an easy fixture.




David Moss returned for the Pars in place of flu sidelined Junior Mendes. Stevie Crawford faced Hibs for the first time since crossing the Forth to join Dunfermline. For the third consecutive SPL home match the visitors wore green as they kicked off towards the McCathie Stand.




First danger was created by Dunfermline when Barry Nicholson got deep down the right to cross for David Moss but his shot was blocked. Sauzee was unpossessed by Crawford after 14 minutes and his cross from the right was headed just over by David Moss.




Within a minute Lee Bullen was in a similar position to fire across another ball from the right that Barry Nicholson just failed to head in. Rob Matthaei collected the ball on the left and he returned it to the six yard box where Colgan spilled it before his defence desperately cleared.




There was still only 15 minutes on the clock when Bullen again crossed from the right to see Crawford`s header well saved by Colgan. Scott Thomson took on ex Par Paul Fenwick two minutes later and surprised everyone with a cross whose invitation went without reply.




A free kick was awarded against Skerla for shirt pulling and Sauzee`s attempt was comfortably saved by Marco Ruitenbeek. A Latapy cross from left found Paatelainen on the far side of the box and fortunately Scott Thomson was quick to block him for a corner.




Hibs were having their best spell so far with Mathias Jack trying to burst through and into the penalty box. Then a cross from Stuart Lovell found Mixu Paatelainen deep into the left side of the Dunfermline penalty box. Andrius Skerla was yellow carded for pushing the big Finn and Referee Clyde pointed to the penalty spot. Twenty one minutes into the game and not really a goal scoring threat - a disappointing concession that had much to do with the competitive side of the Lithuanian`s mind.




Latapy took the penalty himself and sent it low to Ruitenbeek`s left. Jimmy Calderwood said "Yet another penalty against us at East End Park, it`s about time big Ruitenbeek saved one it would make it a little bit easier. Seemingly he has only saved one in his career so we can`t hope for very much."




Rob Matthaei was substituted after 27 minutes for "tactical" reasons but he should not have been as upset as he showed because he would have to plead guilty to giving the ball away on several occasions and finding Lovell difficult to control.




Jason Dair immediately figured in an attack that took him away right before laying the ball off to Lee Bullen whose cross was just too high for Moss. Three minutes before half time Mixu Paatelainen looked suspiciously offside as he was given space to advance on the Dunfermline goal. Marco came out and did well to block and Doesburg cleared the danger.




SECOND HALF




The second half started with Skerla and Mixu exchanging fouls and one wondered just how long both of them could stay on the park. Sauzee smacked the Hibs free kick straight at Ruitenbeek whose huge kick out switched play immediately to the other end.




Three minutes into the half, Barry Nicholson through sheer perseverance dispossessed Laursen way out at the corner flag. The Pars man delivered a perfect ball to the awaiting David MOSS for Dunfermline`s equaliser with a delicate header into the far side of the net.




Hibs replied with Lehmann down the left sending over a good chance but O` Neill headed wide left. Bullen won a free kick with which Nicholson again found Moss but the ball went straight to Colgan.




In 62 minutes Latapy was picked out on the left wing after Doesburg for once was found to be too far off his "shadow" and the Hibee had a shot which was saved by Marco. Jason Dair then found himself in an attacking role in beating two defenders but not the keeper.




The withdrawal of Paatelainen after 66 minutes ended the feud with Skerla and Zitelli did not have the same act as the Finn. The sub teed up O`Neill and again Marco saved. Referee Clyde came up with another strange one giving a free kick for Hibs when the linesman had his flag raised for offside. Justice was done when Zitelli blasted the shot as least as far as row T of the East stand.




Ferguson sent Crawford clear on the left but all that was won was another free kick. Next Dair crossed and Moss again put the ball just over. Colin Nish was introduced for a tired Ian Ferguson; David Moss dropped back to midfield. The substitution does not look to clever in retrospect and Steven Boyle into the left side of midfield crossing for Moss might have been a greater threat.




Both sets of supporters were remonstrating over George Clyde`s decisions as Andy Tod came on for the injured Michel Doesburg. With six minutes to go Zitelli fired over another from the left wing and Dirk Lehmann turned the ball just over the crossbar.




The home crowd were roaring encouragement as Dair found Bullen at the far post but his shot found only the sidenetting. Then with four minutes remaining it looked that Hibs greatest fear was about to materialise - a Crawford goal - when he curled a fine shot just shaving the right goalpost.



A draw in the end suited Dunfermline better but we certainly did not deserve to lose. It had been a fine game for a neutral and Hibs were shown just how difficult it is to take points away from East End Park as Dunfermline put on another first class fight.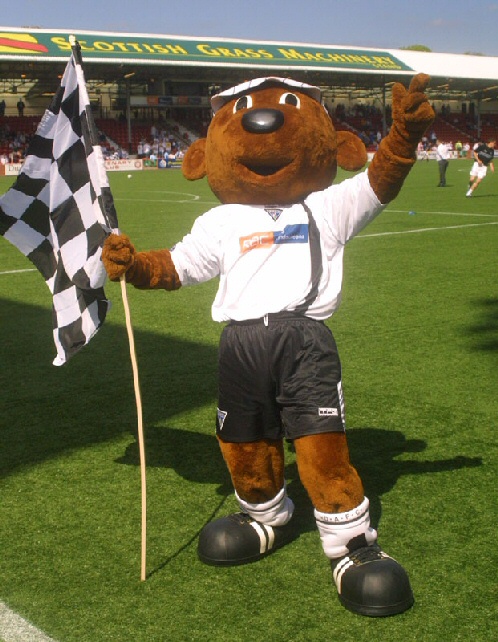 Sammy says thanks very much for visiting our web site where we have lots of news for young Pars fans.