Dutch Tour v Den Bosch
DEN BOSCH 2 DUNFERMLINE 1 Date: 15/07/01
A fine sunny day in `s-Hertogenbosch and the one hundred Pars fans who sought out the training ground of this newly promoted club must be congratulated for the navigation and exploration skills.

As happens in Holland at this stage of pre season the clubs do not use their stadiums preferring to host matches at training grounds.  Finding Den Bosch`s Sportpark Jan Sluyterstraat would have challenged Baden Powell but a welcome awaited our arrival.

A well equipped club house served up beers and burgers pre match and former Pars hero Ivo Den Bieman mixed freely and chatted with the Scottish support.

Another ex Eastender, keeper Kris Mampaey was signed by Den Bosch only the previous day so he did not play but was on hand to meet the Dunfermline management and players and speak to a few fans. 

Den Bosch is where Pars new boy Jack De Gier started his career but he too was to be missing from the line ups.  Jack has been nursing a thigh strain and was rested in preference for making his home debut against Sheffield Wednesday on Wednesday night.  Justin Skinner returned to the team but Chris McGroarty remained sidelined.

The match had only gone four minutes when Dunfermline fell one behind.  A fast break down the left wing by Bart van den Eede who shrugged off the attentions of Gary Mason, let MAXIMIANO score a fairly simple goal.
The Pars countered two minutes later but when Matthaei found Stevie Crawford, the striker`s shot was weak and easily saved.  After 11 minutes  Petrie and Crawford played the ball down the Den Bosch right but their enterprise came to nothing when keeper Martijn van Strien easily plucked out Stewart Petrie`s final cross.

There was not much going right for Dunfermline until Peter Uneken handled the ball in the penalty box as he mistimed his jump to clear a Petrie throw in.  Captain Scott THOMSON took the 22nd minute penalty and scored by sending the ball into the top right of the goal.

A free kick awarded when Rob Matthaei had been fouled as he received a good ball from Steven Hampshire then set up Barry Nicholson with a scoring chance.  Unfortunately the Scottish internationalist` s strike went straight to van Strien.

Dunfermline struggled at times to cope with the height of Maximiano and the speed of van den Eede and any relief when Maximiano had to be substituted soon evapourated when no.25 Paul Koppers was introduced. Freddie van der Hoorn picked out Koppers just two minutes before half time and Marco Ruitenbeek had to save a 20 yards shot.
Moura came on at half time for the home side and soon he was making it tough for the Dunfermline defence.  In 53 minutes he broke down the right to cut back to van der Hoorn who swept the ball across the face of the goals with Peelen and Koppers launching themselves unsuccessfully at the ball.

One minute later Moura again crossed and this time Koppers got in a hard shot that was blocked out by Andrius Skerla.  There then followed a ten minute spell where the Pars did manage more possession.  

A Nicholson corner was taken short to Dair who played the ball off Steven Hampshire for Baz to cross.  Lee Bullen met the ball but his header was saved by the substitute goalkeeper Max de Jong.

When Lee Bullen fed an overhead kick to Jason Dair the Den Bosch defence quickly forced the ball out for a corner.  When the corner arrived from the left De Jong beat Skerla to the cross.

Stevie Crawford was hacked down by Jan Michels and a free kick awarded 25 yards out.  Scott Thomson`s well struck shot was then blocked by Freddie van der Hoorn.

Nicholson had another free kick where David Nicholls just failed to get enough on his header to bother De Jong.  At the other end Marco was forced into action from De Rueitas` fierce shot and three minutes later a Moura cross from the right was mis shit by De Rueitas but KOPPERS netted as he reacted fastest.

Marco saved a strong Gary Mason knock back before John Potter came on for David Nicholls in 77 minutes.  With Kevin McLeish having come on for Hampshire in the 69th minute there were no subs left to play when Barry Nicholson was clearly in pain playing out the game.  Baz must have taken a knock on the ribs.

The last chance of the match was contrived by the Pars. Crawford was sent in on goal by McLeish.  Craw took the ball left and cut back for Dair who crossed to Bullen`s head; Mason nearly got the shot in then but it was eventually Nicholson who shot but the keeper saved it.

This was not a great game for Dunfermline.  They looked slow and possibly the hard three weeks of pre season training was taking its toll.  Nevertheless there was a lack of the direct play that Den Bosch served up.  Not enough penetration down the flanks to get in dangerous balls and nothing coming through the middle.

Too often the ball was passed about the midfield with no one looking likely to take the play forward.  The manager summed it up as a wasted day; we don`t need too many more like this!
Dunfermline`s Dutch goalkeeper, Marco Ruitenbeek spoke frankly after the match:
"I thought we started well but a stupid fault in midfield lost us control and gave them an easy goal.  After that we got the penalty and got back into the game.
"But in the second half I thought that most of our players were tired.  The way we played football today - all the balls were so slow going forward and I think it was one of the biggest problems.
"We always want to play good football on a pitch like this against a Dutch team, but not today!"
Dunfermline physio Pip Yeates broke his ankle on Saturday while challenging young Greig McDonald to a game of tennis at the Pars Training Camp in Delden Holland.  Poor Pip had to have an operation for a broken fibula and displaced ankle.  Several metal pins were inserted into his leg.
It seems inevitable that Pip will not return to Edinburgh Airport with the Dunfermline players on Monday.
Everyone wishes Philip a speedy recovery.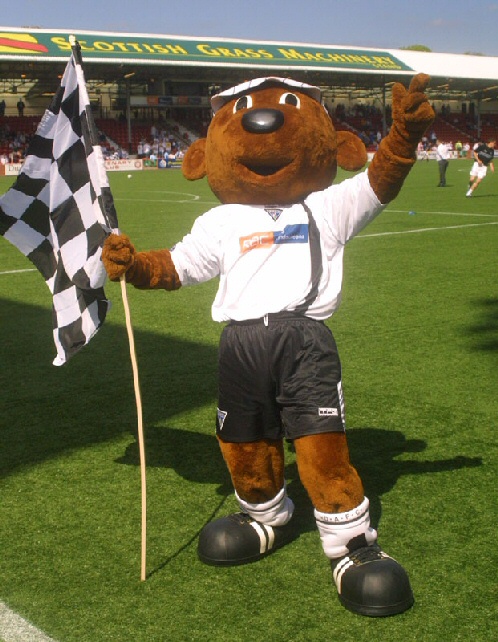 Sammy says thanks very much for visiting our web site where we have lots of news for young Pars fans.