CIS Insurance Cup v East Stirling
DUNFERMLINE 1 EAST STIRLING 0 Date: 22/08/00

Fixture: CIS Insurance Cup
Having played their last match against the country`s top club the Pars were pitched into CIS cup action against the `Shire - currently ranking 36th in the Scottish leagues.








In a frustrating game Pars eventually won through thanks to another Stephen Boyle strike.



Dunfermline found it sticky going against the lollipop men of Firs Park. The bright orange away strip was about the only thing that dazzled the fans at East End Park. The SPL side took until the 81st minute before they clinched this CIS cup tie in which they found a solid `Shire defence hard to penetrate.



Andrius Skerla and Junior Mendes were fit to come back into the side that lost at Ibrox with Brian Reid and Rob Matthaei being relegated to the subs bench. The visitors were keen to attack early with McKechnie and then Gordon both shooting at Ruitenbeek. Dunfermline`s first threat came from Moss after 17 minutes but his header also went into the keeper`s arms. Two minutes later a Scott Thomson pass out of defence was touch by David Moss to Stephen Boyle and his screamer of a shot just cleared the crossbar.



The youngster was getting a lot of involvement - East Stirling were obviously not taking the Ibrox hitman seriously - and in the 26th minute he found Jason Dair with a perfect pass from the left. From 12 yards out the Pars no.3 hit a left footed shot firmly over the crossbar.



Hislop and McKechnie continued to bother the home defence and although getting in good positions never tested Marco Ruitenbeek. When a Dair pass fell to Junior Mendes his delivery was taken off the top of Moss` head by Jim Butter the `Shire goalie. Next Justin Skinner hit a square ball from Thomson over the crossbar from 25 yards and as the interval arrived with a goalless scoreline a Boyle cross to the near post was headed behind by David Moss.



HALF TIME 0-0



Scott Thomson produced the first Pars danger of the second 45 when he took a return from Junior Mendes into the Shire penalty box hit past Butter but also past the right post. Skinner had a shot wide before Thomson put Moss into the box with a diagonal run. The big Englishman shot left footed past the post when a cut back might have brought about a better outcome.



The Pars and their supporters were growing increasingly frustrated. Stevie Crawford`s 69th minute shot went straight to the keeper before play quickly headed towards Ruitenbeek. A Shire through ball was headed by Thomson but it fell behind him and McKechnie homed in on goal with Skerla in pursuit.



Thankfully Ruitenbeek came out to concede a corner. From the resulting corner McKechnie and Ruitenbeek ended up in the corner of the net as the ball went out of play. Both players were yellow carded for tussling.



Eddie May came on for an unconvincing Mendes. Moss moved up front and in the 74th minute May took a Ferguson lob and scaffed a shot from 18 yards that just went outside Butter`s right hand post. A minute later Dunfermline were denied a clear cut penalty when Referee Clyde decided that everyone else in the stadium had been hallucinating as Michael Hall downed Crawford as he was about to open the scoring.



Dunfermline were pushing for the opening and with just 9 minutes remaining Dair crossed from the right, May had a shot that was blocked and Stephen BOYLE stepped in to hit a right footed goal. His third start for the first team and he has scored on each occasion, to which he later said "that is as lucky as you get".



So the 2691 fans were saved from 30 minutes of extra time which was as good as East Stirling were hoping for.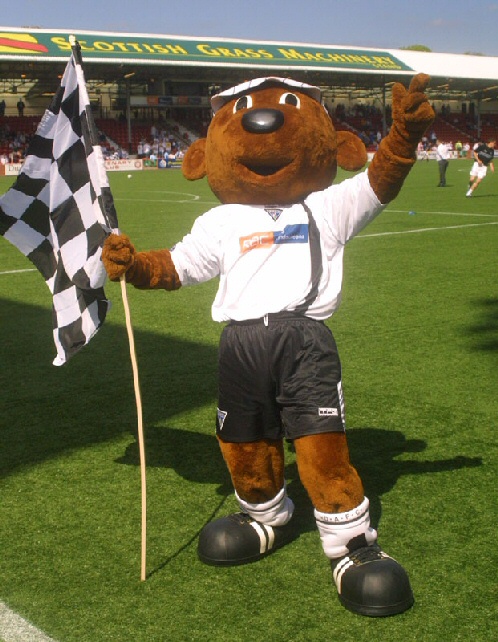 Sammy says thanks very much for visiting our web site where we have lots of news for young Pars fans.