SPL v Celtic
DUNFERMLINE 0 CELTIC 3 Date: 04/03/01


Celtic were the visitors at East End Park for the second time in succession. Henrik Larsson who has scored five goals already this season against the Pars is the man that Dunfermline would have to stop.


Dunfermline made three changes to the team which suffered at Tynecastle last Saturday. Youssef Rossi was back, Marinus Dijkhuizen and David Moss start with Michel Doesburg, Andy Tod and Chris McGroarty all being put back on the bench.


Dunfermline, playing towards the McCathie Stand, had an early fright when a Larsson back heeled flick was headed behind for a corner by Justin Skinner inside the first minute.


The first real chance of the match saw Celtic open the scoring after ten and a half minutes. A Dair pass forward was headed forward from Vega to Petrov. He beat off the challenge from Skinner to exchange a pass with Larsson. The Swede's pass was perfectly placed in front of Stilian Petrov and he slid in the goal in with his right foot. Marco Ruitenbeek had little chance as the ball was neatly placed just inside the right goalpost.


Tommy Johnson was brought on for Chris Sutton who sustained a shoulder injury, and he almost immediately punished the Pars. Suspiciously looking like offside the Celtic sub gathered the ball on the North Stand touchline and crossed for Larsson who whacked a right footed shot just left of the target.


A crossed free kick from the right was headed by Valgaeren to Mjallby who hit the top of the crossbar with a flick. Next Marco tipped over a free kick and then Skerla cleared a Vega header for another corner.


A Dair pass out of defence went straight to Neil Lennon and as Celtic pushed forward Nicholson and Ferguson contrived to give away a free kick only 20 yards out on the left of centre of goal. Larsson hit a very good right footed shot that sailed into the top right of the net. Ruitenbeek looked as though his view was obscured by his own five man wall.


At 2-0 down after 25 minutes and Dunfermline just didn't look like getting this back. A Dijkhuizen ball out left for Crawford allowed the striker to make progress up the wing but as he cut into the penalty box he tried to beat one defender to many and lost the chance of anything better.


A Larsson cross almost landed for Petrov but Ruitenbeek was out to clutch the ball first. Andrius Skerla had a drive forward after 36 minutes his shot was blocked but the ball was played out to David Moss on the right corner of the Celtic penalty area. The offside flag went up, which it shouldn't as the television revealed at half time but Moss fired at Rob Douglas anyway.


Three minutes later a long through ball from Alan Thompson sent Larsson racing goalwards with Scott Thomson in pursuit. The Celtic dangerman got in a shot that Ruitenbeek parried and then dived on.


There were claims for a penalty after Youssef Rossi's run into the Celtic penalty area. Youssef tumbled but Didier Agathe timed his tackle perfectly to take the ball.


Half Time: Dunfermline 0 Celtic 2


At the start of the second half Chris McGroarty was introduced in place of Marinus Dijkhuizen; David Moss was pushed into the attack and Youssef Rossi went back into the back three with Scott Thomson finding himself in midfield.


A good interchange of passes from Dair to Nicholson and to Moss after only four minutes of the half produced a fine touch from Mossy to get inside the defence and square to Fergie. Fergie looked to shoot but instead lobbed the ball into the path of David Moss but Neil Lennon and Rob Douglas combined to deny a shot.


On 56 minutes a Lambert pass went right out to Larsson and his cross flashed unmet across the face of the goals. A Celtic corner was fisted away by Ruitenbeek but then Crawford was dispossessed by Lennon and Thompson swung in a cross that Skerla turned just wide of the goalpost for a corner.


Thompson was on the end of an Agathe cross but thankfully his header was not a problem for Ruitenbeek who just collected on the bounce. 62 minutes had gone when Stevie Crawford cut into the penalty area after a good 1-2 with Scott Thomson. Crawford played the ball back for Jason Dair to cross. Ian Ferguson was up for the headed attempt on goal but Agathe deflected away.


McGroarty cleared a Tommy Johnson header off the line from a Thompson corner with 18 minutes remaining. Andy Tod was brought on for Ian Ferguson and the substitute was played at centre forward. Fergie's departure got the loudest ovation of the afternoon.


The threat continued in front of Ruitenbeek. Thompson was allowed in to shoot and Ruitenbeek tipped over for a corner. From the 77th minute corner Neil Lennon scored a screamer of a goal after Larsson yet again had set up the shot with a pass back towards the Ulsterman from inside the left side of the penalty box.


There was some consolation in that at least it reversed some of the sentiment that Lennon must have suffered this week. His first ever goal for Celtic and when he was substituted for Crainey five minutes later he got a rousing applause from the Celtic support.


Thankfully Hugh Dallas called it a day without playing out added time and the Pars retreated to lick their wounds.


It was another disappointing performance from Dunfermline who still haven't beaten Celtic in a home league match since 1989. David Moss gave 100% but not all his team seem to like 2.35pm kick offs on a Sunday afternoon. It remains to be seen if a 7.45pm kick off against Celtic is any better for Dunfermline players biorhythms.


DUNFERMLINE: 3-5-2; Ruitenbeek; Skinner, Skerla, Rossi; Dair, Nicholson, Ferguson (Tod 75), Moss (Hampshire 69), Thomson; Crawford, Dijkhuizen (McGroarty HT).

Subs: Thomson(GK), Doesburg.

Yellow cards: Nicholson (32), Ferguson (61)

Strip: Home Black & white

League position: 6th


CELTIC: 3-5-2; Douglas; Mjallby, Vega, Valgaeren; Agathe, Lennon (Crainey 82), Lambert, Petrov, Thomson; Larsson, Sutton (Johnson 13).

Subs: Gould, Boyd, Moravcik.

Scorers: Petrov (11), Larsson (25), Lennon (77)

Yellow cards: none

League position: 1st

Strip: Home: Green & white


Referee: Hugh Dallas.

Attendance: 9096


Weather: Bright and very cold

Next match: v Celtic (Scottish Cup) Wednesday 7th March 2001 (7.45pm kick off)




MANAGERS` POST CELTIC MATCH COMMENTS
from Jimmy Calderwood and Martin O`Neill


Jimmy Calderwood said:


"It was a very poor performance from Dunfermline and a very good performance from Celtic. As always when we are playing badly our passing goes. We were very poor on the ball.


"What annoyed me was that we didn't get close to them in the tackles; we weren't winning tackles and Celtic were a lot stronger. You know that if the other team has more quality you have to get into them and we didn't do that.


"They dominated the game. That is the biggest beating that I have had at East End Park since I arrived here 15 months ago. We were a well beaten team today; all credit to Celtic.


"We didn't really hurt them the whole day. They were dangerous in dead ball situations and it was a very strong performance from Celtic. Even if we played our best with the form Celtic were in it would have been difficult for us.


"I took Ian Ferguson off as a precaution because of the way he is and a wee bit of background probably. We know how he is; he has that nature that loves winning football games. It might go against him because we have a lot of hard games coming up. It was hard enough with eleven out there; if we had ended up with ten it would be even more difficult. We took him off top protect him.


"We sit down and think hard about the tactics for every game; Andy Tod is suspended for Wednesday, I don't think we have any injuries so it is a completely different game. After losing 3-0 at home to Celtic everyone will expect us to go there and get annihilated. But football is a funny game and we will go there and give it our best shot. I'd like to think that we could play better than we did today.


"We have got the players, we know what our quality is and we can change the tactics a little bit. I don't think they worked today. It is all credit to Celtic they made us look poor."


Celtic manager Martin O`Neill said:


"I thought we were terrific today from start to finish. I couldn't have asked for any more. I thought our play was fantastic and we deserved to win. The goals were an absolute treat, no doubt about it. We were coming here; you are obviously very concerned about all matches that you play but away from home against Dunfermline – they lose very seldom here this season.


"Our last game we were unable to see through but this one was important because it was a league match. Following on from results yesterday it was important for us to win so we did. To win it in some style was magnificent for us."


And of Neil Lennon O'Neill added:-


"Given the week he`s had it was magnificent for him to score and for me personally he has played like that ever since he arrived up here just before Christmas. His performances have been of such a level that sometimes I find it difficult to distinguish one from the other. He was magnificent again today.


"There was never any question that he wouldn`t play today, it never entered my head. He got very good support from the fans and he has become a bit of a cult hero with the fans who have elevated him to an even higher status. Had his experiences in Belfast in midweek upset Lennon?


"I haven`t really discussed the matter with him any further apart from a short time on Friday morning. He was up for the game and there was never any question of him not playong. "He enjoyed playing that match today and he was ready for the game and his performance proved that.


"He was delighted to score which is a fairly rare occasion and his next one will probably be the next millennium.


"But it was a great goal for him and I`m naturally delighted for him."


With the Cup replay coming next does Martin O'Neill consider that the cup tie was a tactical victory for Jimmy Calderwood?


"People will read whatever they want into the game but we scored a couple of goals we didn't see it through up too the death and Dunfermline got, what I consider in the circumstances, a deserved equaliser. We now have a difficult game against them on Wednesday, but today we were very strong, very competitive and I thought we were magnificent."


Fixture: Scottish Premier League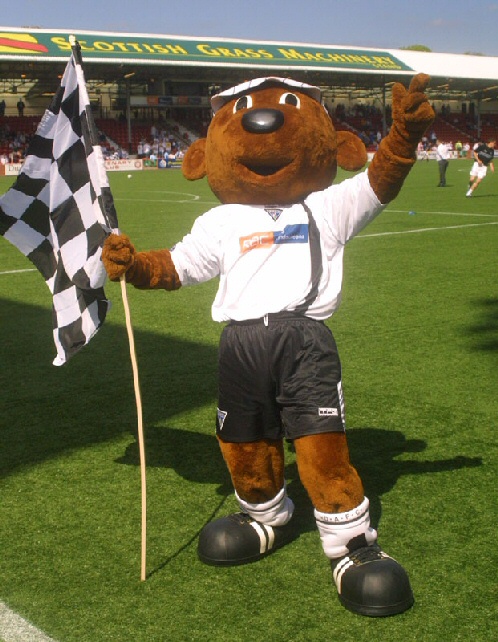 Sammy says thanks very much for visiting our web site where we have lots of news for young Pars fans.