SPL v Dundee United
DUNFERMLINE 1 DUNDEE UNITED 0 Date: 26/08/00
Fixture: Scottish Premier League

Eighth v Eleventh, United had taken only one point from their first four matches, Dunfermline had taken points from three of their five games. After 90 minutes Dunfermline sat fourth and United had dropped to bottom. An
important win for the Pars then that gives them a seven point advantage over United.


Anyone not knowing the teams today might have thought that it was Aberdeen against Hibs, but the red team were better than Aberdeen and the green team were just unripened tangerines. Yes it was Reds v Greens at East End Park as both clubs decided on playing in their new alternative strips. Dunfermline dropped their top goalscorer Stephen Boyle on to the bench, Michel Doesberg and Andrius Skerla returned after missing the Ibrox match, so Brian Reid and Rob Matthaei dropped out.


Dundee United fielded their new Cameroon internationalist striker Alphonse Tchami and ex Dons Stephen Wright and Jamie Buchan were in the starting line up.


Dunfermline kicked off towards the 700 United supporters in the East Stand and not a lot happened as the teams tried to settle. After 9 minutes a Barry Nicholson corner found David Moss but his header was deflected high up into the air and Stevie Crawford was penalised for fouling Combe. Almost immmediately Justin Skinner had a shot from 25 yards which went off the foot of Jason De Vos for a corner. The Pars had a number of crosses across the six yard box which failed to find the strikers. If they were at the far post the cross was near post etc.


Michel Doesberg was involved in the build up to the next chance when after 14 minutes he played the ball off Junior Mendes to cross. David Moss deflected the cross to Crawford whose shot was turned behind for a corner. A similar cross from the right only three minutes later saw Crawford go inches past from a Mendes cross. Although narrowly missing the ball ended up going out off the corner flag. At this stage the Pars were firmly in control passing the ball around the United half and retaining a large amount of possession.


David Moss was unlucky when a sweetly struck shot from Jason Dair was turned into Moss` path but his header went wide before he had time to adjust. United then won three successive corners and possibly should have scored from the second when De Vos headed down to Aljofree at the far post but somehow the ball was kept out. An under weighted pass from Ian Ferguson led to United`s best chance of the half which fell to McConalogue but the youngster chose to capitalise on Ruitenbeek`s forward positioning by attempting to chip him. The effort went straight to the Dutchman while Tchami might have made more of it if he`d been sent on by McConalogue.


The match passed through a spell of midfield dominance until the 42nd minute when CRAWFORD scored a spectacular goal for the Pars. Michel Doesberg fed a ball into the penalty box from the right, Mendes latched on to it passing it forward to Crawford who played it down as he turned De Vos and fired low and hard passed Combe. This of course is the classic textbook "best time to score" and Dunfermline went on to prove the theory right.


After Stewart Petrie appearance albeit on crutches to make the 50/50 half time draw, United came out for the second half with all engines firing. For 15 minutes they produced chances and pinned Dunfermline back in their own half. Only one minute into the half Tchami got to the bye line cut the ball back but nobody could slot it away for them. The United pressure continued as Dair lost possession and another corner resulted. Steven McConalogue got on the end of Davidson`s 49th minute corner from the left and his looping header was touched on to the crossbar and behind by Ruitenbeek.


Jason Dair again caused his own defence problems as his touch effectively let McConalogue round Andrius Skerla and the youngsters cross was unlucky to miss both Tchami and Hannah who got closest as he catapulted himself towards the ball. United were getting deeper and deeper inside the Pars penalty box and Tchami might have done better with a 59th minute header.


On 60 minutes Ian Ferguson had a 25 yard shot that Combe saved before the captain was next involved playing a ball out left for Mendes who struck the ball across the goalmouth but Moss couldn`t connect. Before the danger was cleared Scott Thomson had a shot at goal and Combe did well to keep out the ball after it had taken a touch off one of his own players. Junior Mendes was fouled as he headed into the United penalty box and a free kick was awarded (correctly) just outside the area. Ian Ferguson`s free kick was just curled over the crossbar. Mendes had another tempting cross from the left that found no takers and Dair had a good shot at goal which the keeper spilled but recovered to collect quickly.


David Moss did well to get the ball through to Crawford on 70 minutes and the striker instead of homing in on goal, turned and looked for support. Moss arrived but his effort bent passed Combe`s left hand post. Eleven minutes from the end a very good Dunfermline move almost doubled their lead. Lee Bullen who had just come on for his SPL debut headed down to Crawford and Moss was involved as the ball was switched right. Nicholson was picked out and he did well to place the ball to Doesberg. Doesberg chipped the ball over his opponent into the penalty box and found Stevie Crawford in front of goal. The Pars striker`s shot came off Combe`s backside and spun towards the goal line but not across it. A great pity because the move was excellent and deserved a goal.


Only a minute later a Doesberg free kick was headed narrowly over the crossbar by Skerla. United pushed for an equaliser during the last ten minutes and the following three of added time. Hannah headed a Tchami cross just wide. Steven Thompson had a header that was dipping under the bar but Ruitenbeek saved and then there was a scramble at the resulting corner but the pars held out to win the three points.

DUNFERMLINE: 3-4-1-2: Ruitenbeek; Thomson, Skinner, Skerla; Doesberg, Nicholson, Ferguson, Dair; Mendes (Bullen 78); Moss, Crawford.
Subs not used: Thomson (GK), Potter, May, Boyle.
Scorer: Crawford (42)
Yellow Cards: None
Strip: Away Red
League Position 4th

DUNDEE UNITED: 4-4-2: Combe; Wright, De Vos,Partridge, Aljofree; Davidson (Heaney 64), Buchan, Hannah, Paterson (Thompson 68); Tchami, McConalogue (Easton 75).
Subs not used: Onstad, McCracken
Yellow Cards: Tchami (85)
Strip: Away Green

Referee: M McCurry
Attendance:4980

Weather: Overcast, warm
Next Match v Motherwell (home) Wednesday 6th September


MANAGERS COMMENTS

Jimmy Calderwood`s after match comments:


"I think we started the game very very well. The first 25 minutes there was only one team in it with the passing and a lot of movement. We changed it about a little bit giving Junior a free role from the left to right hand side and put big Mossy up front. I think it was working well but we didn`t get the breakthrough.


"Dundee United were always going to be dangerous in dead ball situations with the height they have got. The chances if they created any came from us losing the ball in midfield, taking too many chances and we didn`t need to do that. I was well pleased with the first 25 minutes and then we went for route one.


"Mossy was 3rd or 4th choice - you know if you`ve got the ball and Stevie Crawford, to Junior and to wee Barry are the choices; they should have been first when we wanted to play the ball on the deck. We started playing long balls and Moss was winning everything so we let it go a little bit. We lost a bit of control but then Crawford goes and produces the goal just before half time.


"Psychologically it was obviously a great moment for us. We warned them last time - we got a penalty just before half time; we warned them first five minutes to get it sorted out and the game got a bit sloppy with our passing giving the ball away. We got to grips again and I thought there was only one team in it. We couldn`t get the second goal. A great move down the right hand side was worthy of a goal. The goalkeeper saved it with his backside in the end and just couldn`t get the second goal to finish them off.


"Teams at this level will keep battling. The last 15 minutes we just couldn`t get out of our own half. It was all hands on deck. I think it was a deserved victory, it was so important - it gives us a 7 point difference over Dundee United.


"They are down at the bottom at the moment albeit they have a game in hand. It`s a nice little cushion at the moment and hopefully we can take 8 points from the next 6 games and we`ll be well pleased.


"Stevie Crawford is looking very sharp, it was a great goal but that is the quality he has got. I don`t think we should forget wee Barry. He just knocked it in, good vision from wee Barry, good pace on the ball and Stevie`s done the rest, but that is the quality and we`re so glad to have him here with us.


"Barry Nicholson did well today, he looked a good player. It is very difficult to come away from Rangers because with all respect to our players, you are playing with lesser players. Players are moving are Rangers and you`ve always got options, not only one but you`ve got three or four. So it took a wee bit of time for him, but at Motherwell the other week there he had a tremendous game second half. I think we`ll need to forget the Rangers game; none of us were there really and today I thought he was our best man. Great passer, good vision. For his size he is also quite good in the air. Well pleased.


"I said last week after the Rangers game we were very very disappointed by the way we played, well we didn`t play; because we turned up. We had to recover this week. OK people were disappointed we only beat East Stirling 1-0 but we are in the next round of the CIS cup against Motherwell and somebody just told me that we are fourth top of the league. So we`ll better go and take a photo of teletext and go and have a drink."


UTD MANAGER THOUGHTS


Dundee United manager, Alex Smith`s after match comments:


"I felt that the goal, just before half time was bad defending from our point of view. It gave them the lift at the time in the game when you want to come in even stevens and have a go at them in the second half. As it was they scored and got a little lift from the crowd.


"Despite that the first 20 minutes of the second half I thought we dominated it then Dunfermline came back into it for about quarter of an hour and we had to defend again. Last period of the game we put pressure on but couldn`t get a break. The goalkeeper had a couple of good saves and we had a couple of good scoring chances.


"We worked hard. I thought the game was between two evenly matched teams. Really the goal was the difference. We were much better than we were last Saturday. We came back, we battled we scratched to try and get the game back again. At the point where Dunfermline scored the goal we were actually on top. We had weathered the early Dunfermline pressure; they`d had one flashing header; the goalkeeper hadn`t had a save. We hadn`t tested their keeper either - it was a game like that.


"The goal should have been avoided from our point of view. Crawford took it well enough but we shouldn`t get turned in the box.


"I was quite pleased with new signing Tchami, he`ll be a big asset. He needs games, he needs fitness. He is from a different culture and has a different mentality, he battles for the ball and he is strong. I thought he was a wee bit unfortunate to be booked - he had to take as much as he got. He is a good player he has got ability. We could have played him into it in the first half one of the times when we broke 2 on 1 against them but the young lad`s inexperience tried a chip and that was a big opportunity wasted.


"We`ll keep working, we`ll keep building. Apart from that lapse at the goal I was much happier with the players at the back. We`ll keep looking to strengthen the side in the area we feel need strengthened. We won`t be sitting back thinking that we are going to work our way out of the position we are in. It`s early doors yet, we have only played 5 games and if we keep working we`ll turn the corner. We have got money behind to bring in players if necessary."


CRAWFORD`S COMMENTS


"Against Rangers and Dundee we didn`t do ourselves any favours any justice away from home. We`ll keep our feet on the ground and it`s good that we got the break and come away with three points today and got ourselves into that position."


Stevie Crawford described his goal:


"I think Jason Dair started the move off down the left, he played the ball into Skins, a couple of passes between Barry and Junior flicks a nice ball through to me. A good turn and a good strike at near post maybe caught the keeper out."


He added about the second half move that the manager said deserved a goal:


"I think it was possibly one of the best moves of the game. Barry Nicholson flicked a good one over, then Michel Doesberg produced a great bit of skill and actually had the composure to pick me out. I couldn`t have hit the ball any sweeter, I`d probably been happier if I`d pulled the neck off it - you know sometimes they end up in the back of the net. But it seemed to catch the keeper on the backside and he was a wee bit fortunate that it didn`t go in.


"Against Rangers and Dundee we didn`t do ourselves any favours any justice away from home. The Aberdeen game at the start of the season we created enough chances to win two or three games. The matches against Motherwell and Dundee United we`ve come away, albeit only 1-0 victories, but we did lose goals and it`s the old cliche that you are not going to lose games.


"It was something different today, I haven`t been playing up front with Junior because he`s been injured. I wouldn`t say the two of us are the best in the air and the manager has put Mossy up there for his presence and given Junior a free role today. I thought David Moss was excellent today, holding it up, challenging for headers, putting his body about and giving me and Junior a chance to play something off him.


"With Dundee United playing with Jason De Vos, a big strong lad so I think you need someone like Mossy up there. It`s just the way the manager see fit, sometimes he`ll maybe play three up front so it doesn`t really bother me.


"It`s nice to be fourth top but we`re not going to get carried away. I was at Hibs three years ago when we started off on fire and people were saying you are going to end up in Europe. It`s not that we are lacking ambition here but our main aim is to stay in the Premier League this year. Anything else that comes with that is a bonus. We`ll keep our feet on the ground and it`s good that we got the break and come away with three points today and got ourselves into that position."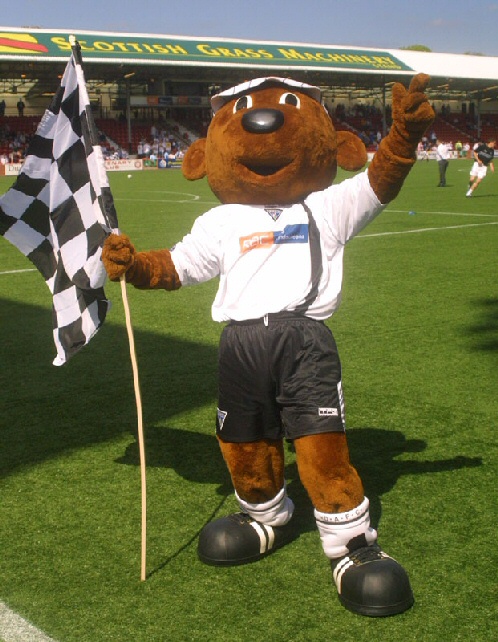 Sammy says thanks very much for visiting our web site where we have lots of news for young Pars fans.