Dutch Tour v RKC Waalwjik
RKC WAALWIJK 1 DUNFERMLINE 1 Date: 09/07/02

Fixture: Pre Season Friendly

Attendance: Kick Off: 18:00

Weather: Raining throughout most of the first half, but dry at the interval.

Dunfermline to Eindhoven via Auckland almost came unstuck by the hold ups in the Dutch road system. The touring team reached Mierlo near Eindhoven late for their match against RKC Waalwijk. Help from PSV meant that their 40 strong travelling support were anxiously awaiting their arrival with thirty minutes to kick off. PSV in this case however was public service vehicles!


Calderwood`s problems were compounded with training injuries to his new boys Andre Karnebeek (right calf), Derek Stillie (hamstring) and Craig Brewster.


Gus MacPherson has returned home to have exploratory tests on a recurring fluid build up condition in his knee. Barry Nicholson and Brewster are expected to be fit for Thursday and Sean Kilgannon should make the match on Saturday.


This all meant that fans favourite Lee Bullen was cast in yet another new role. Having played at centre half, right mid field, right back and centre forward in the space of three games in NZ Lee is now hoping to fill the vacancy that might occur if MacPherson requires surgery.


Having missed the long haul to Kiwi country, Andrius Skerla and Jason Dair have joined the party in Holland and they both made valuable contributions during their 90 minutes.


Dunfermline survived an early scare in 4 mins when Hoogendorf almost capitalised on an uncharacteristically loose pass from Scott Thomson. At the other end Bullen was up to meet a Stewart Petrie free kick and test the Moroccan international keeper, Sinouh in the RKC goal.


Next Cornellissen tapped the ball down for Janssen and the RKC no.10 turned and shot only for Scott Walker to stand in to block.


On the 10th minute Steven Hampshire sent Bullen deep up the right and his cross was headed behind for a corner. Gary Dempsey hit a shot from the corner but the target was a bit below Dempsey`s aim.


The right flank again allowed Stevie Crawford space to compose a good cross that De Hoey scrambled away. Then Crawford had a go and again the ball went over the top.


RKC did enjoy a lot of possession but to no effect. Jason Dair won the ball just inside his own half before travelling 30 yards to provide Gary Mason with a great 19th min chance that was deflected wide.


Waalwijk had the better chances however and the defence although secure was under pressure at times and thankful for the wayward Dutch shooting.


After 29 minutes Cornellissen trickled a shot wide to the left of Marco`s goal and then he crossed a ball that Van Loenhout might have down better than sky.


When Crawford was impeded on the left in the 31st minute Petrie stepped up to float over another free kick that Hampshire headed behind.


Five minutes before the interval however the Pars fell a goal behind when a free kick on the right was sent over by Van Dieman and Janssen rose unchallenged to head in a simple goal from six yards.


On the stroke of half time Gary Dempsey dwelt too long on his wind up to shoot in a Bullen cross and the chance was blocked out.


At half time Scott Walker and Stevie Hampshire went off to be replaced by Kevin McLeish and Colin Nish. More importantly the formation changed from 4-4-2 to 3-5-2 as Jimmy Calderwood acted to try and counter RKC`s control over the midfield.


Five minutes after the restart RKC struck the second of two successive corners narrowly over the crossbar. Dunfermline`s response was a Jason Dair cross from the right that was turned on to Colin Nish and Stevie Crawford fired in a shot from close in that was turned around the right post.


Petrie went right to take a free kick on the hour and when the first move broke down he got another crack at it when he crossed for Nish. The youngsters first goal was denied by the tenacity of the Dutch defence.
George Fotheringham and Davie Nicholls were brought on to replace Stewart Petrie and Gary Dempsey. Fotheringham injected pace and looked promising.


On 76 minutes the Pars got the equaliser gift wrapped courtesy of the RKC defence. Jason Dair swung over the ball from the left wing that he had occupied after Petrie`s substitution. The defender in the six yard box scuffed his clearance and Stevie CRAWFORD stepped in to slam past Sinouh from six yards.


Nine minutes from time Kevin Mcleish was injured as he pushed the ball through for Fotheringham. The youngster could have shot but elected to try to find Colin Nish in the centre of the box but the defender got goal side and the chance was gone.


This was not a performance that please Jimmy Calderwood; he thought his team were lucky to get the draw but was pleased to see Skerla and Dair come through the full 90 minutes of their first pre season matches.

Dunfermline: Ruitenbeek; Bullen, Skerla, SM Thomson, Walker (McLeish H/T); Dair, Dempsey (Nicholls 69), Mason, Petrie (Fotheringham 69), Hampshire (Nish H/T), Crawford.


Dunfermline Subs: Blair, McGarty, SY Thomson.


Dunfermline Strip: New home Black & White


Dunfermline Goal Scorers: Crawford (76)



Dunfermline Cards: None



RKC Waalwijk: Sinouh; Greene, Van der Berg, Landzaat, De Graaf; De Hoey, Van Diemen, Van Loenhout, Hoogendorf; Janssen, Cornelliessen



RKC Waalwijk Goal Scorers: Janssen (40)



RKC Waalwijk Card: None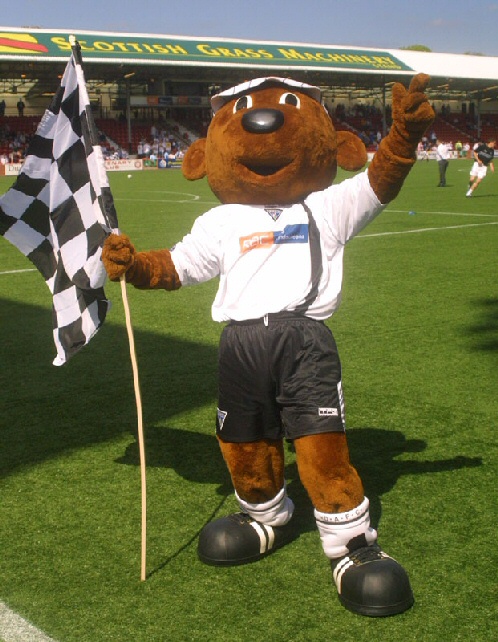 Sammy says thanks very much for visiting our web site where we have lots of news for young Pars fans.