SPL v Inverness Caley Thistle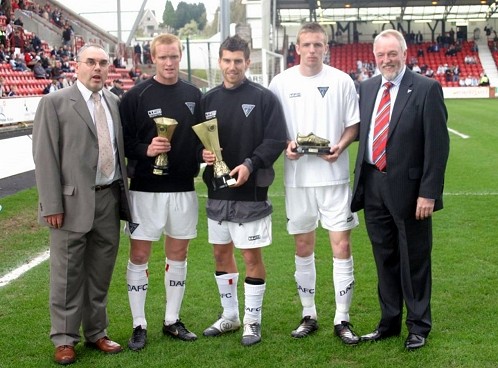 DUNFERMLINE 0 INVERNESS CT 1

Date: 06/05/06

Fixture: BOS SPL Premier League

Attendance: 5354

Kick Off: 15:00

Referee: Dougie McDonald

Weather: Overcast 16ºC

The Pars made two changes from the team that was successful at Tannadice. Bryn Halliwell took over in goals as Allan McGregor had a niggling thumb injury; Scott Muirhead came in for Freddie Daquin who was also carrying a slight injury.

Inverness had Mark Brown back in goals and that was one of just five changes. Craig Dargo was out and Zander Sutherland, Dennis Wyness, Russell Duncan and Michael Fraser found themselves on the bench.
The visitors kicked off attacking the goal at the McCathie Stand end but Dunfermline were first to make headway on goal. On two minutes Tarachilski`s nice lay off for Burchill was stopped by a blatant Ross Tokely check on the edge of the area. Noel Hunt took the free kick but he drove it into the wall and Scott Muirhead sent the rebound over the crossbar.
The Pars kept up the pressure with Tarachulski winning another free kick this time on the right. Muirhead sent the ball into the far side of the six yard box and Mark Brown touched it behind for a corner. Muirhead sent that into the penalty box but Greg Ross`s shot from the right side was wayward.
A flurry of activity in front of Brown failed to change anything despite attempts by Tarachulski, Mason and Muirhead. Inverness were kept well away from Halliwell but didn`t prevent Alan Morgan firing over a 17th minute ball from wide left that narrowly cleared the crossbar. Barry Wilson`s 30 yard free kick awarded for Wilson`s challenge on Rory McAllister was headed behind for a corner but the Highlanders failed to threaten from it.
After Dunfermline`s promising start Caley were allowed to get back into the game and it was the 26th minute before there was much more for Mark Brown to worry about. McBain took down Mark Burchill 30 yards out and Muirhead threaded the ball out right for Aaron Labonte to run on to and cross for Burchill to head goalwards but with the distraction of Noel Hunt being cut down in front of him, he could only win a corner.
Out left Iain Campbell collected the ball from the corner but a push on Hunt prevented the Irishman heading on target from the cross. It was Greg Shields who got the 27th minute header in but sadly over the bar. Four minutes later Hunt delivered from the right but Burchill`s good attempt was deflected for a corner.
Barry Wilson`s deflected 25 yard shot earned Caley a 38th minute corner and that, although defended, ended up with captain Stuart Golabek heading over the cross bar from 8 yards. Five minutes from the break Liam Keogh was yellow carded for not retreating as Burchill tried a quick free kick and when Campbell took it Tarachulski headed down into the six yard box but Burchill was closed down before he could get a shot at Brown.
Half Time: Dunfermline 0 Inverness Caley Thistle 0
Nick Phinn came on at half time for Scott Wilson. This meant Greg Ross dropping back to right back and Aaron Labonte assuming a central defensive role. On 49 minutes McAllister got the better of him on the edge of the box but fortunately failed to find the net. Tokely had a chance too from the corner kick but his free header he sent wide left.
Another Morgan inswinger almost let Tokely in but his header went behind on the left off Greg Shields. When the 53rd minute corner was delivered it seemed to pose no real threat and Nick Phinn headed away firmly. Unfortunately the ball dropped into the path of Alan MORGAN 23 yards out and his shot went through a ruck of players and into the left side of the Pars net.
Free kicks on the edge of both boxes were both despatched into the stands; firstly by Burchill and then by Wilson. Dunfermline looked like they were in for the equaliser in 58 minutes when Campbell`s cross through the penalty area narrowly evaded Burchill as it went out on the right of goal.
Iain Campbell stopped Morgan`s progress on the right byeline and Wilson`s swiftly taken free kick was played back for Keogh to shoot over the crossbar from 22 yards. Keogh had another good crack at goal minutes later when an Inverness corner was again cleared by Phinn but the Inverness midfielder had time to compose himself and sent a piledriver in but fortunately the defence managed to block that out.
There was an appreciative stand ovation for Bartosz Tarachulski as he ended his Dunfermline career in 62 minutes and an equally warm welcome for Tuesday night`s match winner Freddie Daquin. Noel Hunt moved forward to spearhead the attack with his old mucker Burchy. They nearly broke through in 70 minutes but Noel`s cut across the six yard box from the right just failed to find the Pars top goalscorer.
At the other end Halliwell was forced to save a Barry Wilson shot from close range after he had beaten off Campbell`s challenge in the Inverness half and sprinted away from him. Hunt headed a Muirhead cut back wide of goal from six yards and it looked like it wasn`t to be a happy ending to the season. But then a long bouncing ball was headed on by Hunt and Brown had to tip the ball over his crossbar.
Daquin won a free kick on the right edge of the Inverness box but Muirhead`s cross was easily headed away and the Pars fans were growing increasingly frustrated. The sun came out as Wyness cut back a good cross into the left side of the Pars box. Graham Bayne connected well and somehow managed to smash his shot wide of the left goalpost when it looked easier to score.
Then in 89th minute Bayne teed up Fox and he amazingly placed the ball on the wrong side of that same left post. Dunfermline were not to score despite a late push that saw Shields come closest but not close enough.
In the end it was defeat and with Dundee United getting a point through an 86th minute Collin Samuel equaliser at Motherwell, and Falkirk defeating Livingston 1-0 it all meant that the Pars finish the season in eleventh place. Well done Caley Thistle they finish seventh. Yet another match where Dunfermline failed to beat Caley Thistle as they kept a clean sheet to extend their run to 459 minutes without losing a goal.
Dunfermline: Bryn Halliwell; Aaron Labonte, Greg Shields (c), Scott Wilson (Nick Phinn HT), Iain Campbell; Noel Hunt, Greg Ross, Gary Mason, Scott Muirhead (Craig Wilson 84); Mark Burchill, Bartosz Tarachulski (Frederic Daquin 62)


Dunfermline Subs: Allan McGregor, Andy Campbell, Jamie McCunnie, Stephen Simmons


Dunfermline Strip: Home White and Black






Inverness CT: Mark Brown; Ross Tokely, Darren Dods, Stuart McCaffrey, Stuart Golabek (c); Barry Wilson (Russell Duncan 89), Roy McBain, Liam Keogh, Alan Morgan (Liam Fox 84); Rory McAllister (Dennis Wyness 78), Graham Bayne


Inverness CT Subs: Michael Fraser, Zander Sutherland, Guy Kerr, Tom Parratt


Inverness CT Goal Scorers: Morgan (53)



Inverness CT Yellow Card: Keogh (41)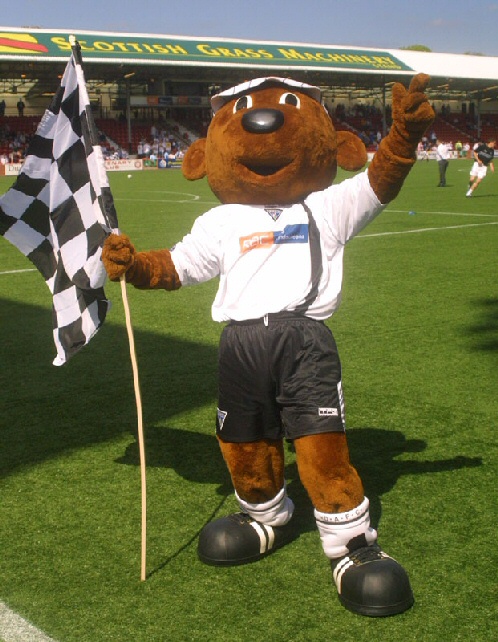 Sammy says thanks very much for visiting our web site where we have lots of news for young Pars fans.