SPL v Dundee United
DUNDEE UNITED 1 DUNFERMLINE 2 Date: 30/10/04

Fixture: BOS SPL Premier League

Attendance: 6297 Kick Off: 15:00

Referee: Kenny Clark Weather: Overcast 11C

The Pars returned from Dundee with full points for a second successive Saturday prompting Davie Hay to reflect that possibly his team should have played their UEFA match in the City of Discovery.
Going behind in the 8th minute to a Mark Wilson penalty resulting from Stillie`s challenge on McIntyre the Fifers replied 67 seconds later when Andy Tod slid in an equaliser. Then after a match in which both sides had chances to win the Pars finished stronger and Darren Young headed in the winner 40 seconds into the three added at the end of the match.
The Dunfermline team was forced into changes through injuries to Derek Young and Greg Shields. Darren replaced his brother in midfield and Richie Byrne was drafted in at the back. Thomas Butler found himself on the bench as Andy Tod was preferred up front.
The teams, placed 10th and 11th before this match changed ends before United kicked off defending the Shed end. Early exchanges were fairly tame but the game burst to life in the 7th minute when Karim Kerkar forced Andrius Skerla and Richie Byrne to make a mistake that Jim McIntyre into the right side of the box. As the former Kilmarnock and Reading player attempted to go round the keeper Derek Stillie`s outstretched hand brought down the United striker.
Kenny Clark pointed to the spot and Mark WILSON stroked the into the bottom right to send Ian McCall`s men into an early lead. That advantage lasted all of 67 seconds.
Craig Brewster sent the ball on to the left and Byrne took it forward before sending in an intentionally low ball to negate the aerial advantage the team had been warned of. The trajectory was perfect as Andy TOD slid in to direct the ball into the net from inside the six yard box.
United continued to come forward with Jason Scotland taking the right side of the Fifers defence apart to reach the byeline and send a diagonnal ball through the penalty box to Derek McInnes whose shot from 20 yards hit the outside of the right sidenetting fooling some United supporters into goal celebrations.
Scotland sent a shot wide to the left of goal before he received a Brebner pass, beat both Byrne and Wilson twice to send a shot into the arms of the black shirted Dunfermline keeper. Two minutes later, on the quarter hour, Kerkar headed a McInnes cross over the crossbar when Skerla and Wilson left it for each other.
The Pars chances were few but a Byrne cross was touched back to Nicholson in the 21st minute but Barry`s blasted shot was deflected over the bar for a corner. The corner did find Skerla`s head but his header was cleared.
With thirty minutes gone Innes`s challenge on Brewster let Scott Thomson send over a free kick from midway inside the United half that Andy Tod headed down for Donnelly but he was wide from 6 yards.
Next minute play was back in front of the Pars goal with Scotland receiving Robson`s pass to torment Wilson before shooting wide. Another Thomson free kick targeted Tod and although his header was cleared it only travelled as far as Gary Mason whose driven shot from 25 yards was held by Jarvie falling to his right.
Young halted a Kerkar run conceding a corner on the left and Stillie fisted away Robson`s delivery. Five minutes from the interval a fine move through Tod and Donnely supplied Young with a great shooting opportunity but his angled shot from 18 yards went narrowly wide of the left goalpost.
Andrius Skerla kept out United cutting out a Kerkar ball to Scotland on the penalty spot after the tricky wee number 21 got the better of Young and Nicholson on the Dunfermline right. In virtually the last move of the first half Derek Stillie brought off a great save to keep out McIntyre`s curling shot from 22 yards.
The second half continued in much the same way as the first with both teams having chances. A 49th minute Thomson free kick was moved on by Brewster and Tod for Young to try a shot as he fell over but that failed to fool Jarvie In the 51st Kerkar and Brebner set up a great opportunity for McIntyre but he somehow failed to connect as the ball was driven through the six yard box.
At the other end Archibald`s challenge on Young gave Brewster a pop from distance but Brebner`s heel diverted the ball for a corner on the left. Jarvie collected Skerla`s weak effort frpom the corner.
The Lithuanian`s next header was to concede a corner on the right as he turned Robson`s cross behind. Robson went over to send the ball over from the right but Brewster defended the ball out for a throw in on the same side. From that Scotland broke away from Byrne and his powerful shot from 18 yards was deflected on to the crossbar off Wilson.
The sight of Karim Kerkar being substituted by Billy Dodds in the 65th minute must have been a welcome one to the Pars defence because the 27 year old Frenchman had been extremely difficult to stop. Dodds never managed to created the same terror as the man he subbed.
A fine passing move involving Tod, Mehmet, Nicholson and Byrne ended with Brewster scooping a shot that was wide right. Brew who had dropped back into midfield to allow Mehmet to pursue the battle upfront with Tod, put in a useful ball that the keeper punched and Young and Thomson were unlucky it just did not drop kindly for them.
In the 74th minute Scotland turned Thomson and released a fierce shot that Stillie did well to save. Two McIntyre crosses were headed away by firstly Skerla and secondly Wilson. Mehmet then had two off target efforts; a shot wide and a header wide after Brewster had tried to put mason through.
Time looked to be running out and when Brewster hit a 89th minute shot well wide right a draw looked on the cards until Brebner lost out to Mehmet in the middle of the park. Billy, encouraged from the Pars bench to run it, did exactly that before sending over a fine ball that Darren YOUNG met with a diving header 12 yards out to beat Jarvie low to his right.
Although the goal came 40 seconds into stoppage time there was an anxious finish as Tod fouled McInnes 25 yards out but Mark Wilson fired his 94th minute effort from the set piece into the Dunfermline wall.
Three very welcome points that, along with Inverness Caley Thistle`s 2-0 win over Livingston, send United to the foot of the SPL table. A good team performance in which Stillie, Brewster and Tod stood out.
Managers Post Match Comments
Darren Young Post Match Comments
Billy Mehmet Post Match
Dunfermline: Stillie; Thomson, Skerla, Wilson, Byrne (Labonte 77); Nicholson, Mason, Darren Young; Donnelly (Mehmet 61); Brewster, Tod.


Dunfermline Subs: Langfield, Bradley, Butler, McKeown, Ross


Dunfermline Strip: Home White and Black


Dunfermline Goal Scorers: Tod (9), Darren Young (91)



Dunfermline Yellow Card: Darren Young (85)



Dundee United: Jarvie; Wilson, Innes, McCracken, Archibald; McInnes, Kerkar (Dodds 65), Brebner, Robson (Grady 75); Scotland, McInytre


Dundee United Subs: Hirschfeld; Kerr, Ritchie, Gardiner, Cameron


Dundee United Goal Scorers: Wilson (8 pen)


Dundee United Yellow Card: McInnes (85)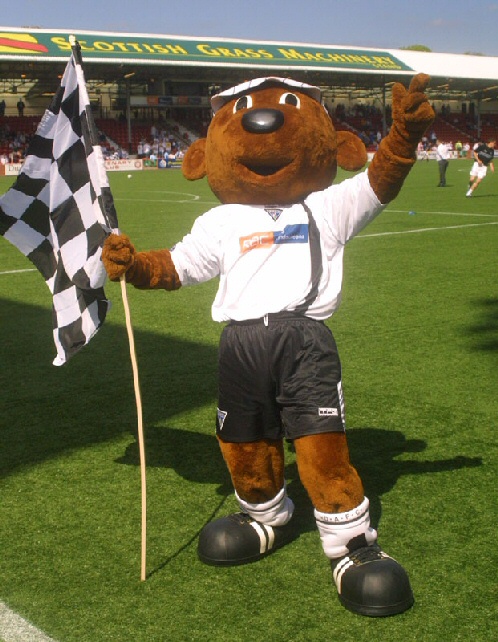 Sammy says thanks very much for visiting our web site where we have lots of news for young Pars fans.