SPL v Kilmarnock
DUNFERMLINE 4 KILMARNOCK 1 Date: 20/11/04

Fixture: BOS SPL Premier League

Attendance: 4344 Kick Off: 15:00

Referee: Mike Ritchie Weather: Bright Dry 2C


Dunfermline badly needed a win with matches coming up away to Motherwell and Hearts followed by the visit to Fife of SPL Champions Celtic so with no fewer than eight first team regulars out through injury the resounding victory was somewhat unexpected. Barry Nicholson put the Pars ahead after half an hour; Billy Mehmet increased the lead seven minutes later and a Scott Wilson header for the third 12 minutes into the second half effectively sealed the Pars second home win of this SPL season. A Gary Wales goal ten minutes from time gave the visitors some consolation but Craig Brewster smacked in a 90th minute fourth to secure a comfortable home win.
The East End injury list lengthened following the trip to Pittodrie last Saturday; Andy Tod, Thomas Butler and Richie Byrne were sidelined but Darren Young and Craig Brewster returned for the visit of sixth place Kilmarnock.
In a subdued opening spell neither team seemed to offer much of a threat to the other, with Killie`s closest effort being a header over the bar from the Pars` own Scott Wilson after a mix-up with Stillie. Dunfermline only fared slightly better with their first effort when Mason`s shot was blocked, the next effort by youngster Greg Ross (making his debut due to Tod`s absence) was saved by Combe and finally the slightly more experienced Brewster had an attempt again saved.
The Pars took the lead half an hour into the match when Mehmet collected Young`s pass and held off the attentions of Ford long enough to lay the ball to the side. It was duly collected by Barry NICHOLSON who calmly supplied a fine finish across Combe to the far post.
A long-range effort from Brewster did little to trouble the Killie keeper but it was more than Killie could muster at the other end. Dunfermline defended well, particularly the impressive Labonte, and confidence grew.
Gone were the dire long balls that have been seen too often this season, replaced instead with flowing football that remained on the ground for as long as possible. One particular move involving Nicholson and Donnelly allowed the Scotland internationalist to unleash a venomous effort that seemed goal bound but for a wonder save by Combe.
Dunfermline`s confident play deserved more and it was delivered accordingly as the first half grew old. A neat ball over the top of Kilmarnock`s defence found Billy MEHMET waiting to finish with a powerful effort from just inside the box.
Killie finished the half with a brief flurry of attacking moves but a tremendous last-ditch tackle by Labonte and a similar feat courtesy of Mason put paid to their scoring plans.

Cheerleaders Half Time entertainment
Dunfermline carried their strong performance over into the second half and should have done better when a Nicholson free kick was dropped right across the six-yard box with no takers. The Pars didn`t have to wait much longer for a third however.
Their dominance resulting in a seemingly endless string of passes, Mehmet finally relinquished the ball but won a corner for his efforts. From the ensuing kick, Scott WILSON sailed high above the rest to send a terrific header soaring into the top of the net and effectively kill off the match.
Killie offered little except a couple of wasted corners and a low shot from Invincible that was saved by Stillie. The Pars in contrast looked a lot more threatening. Mehmet saw one effort blocked by Ford and then got on the end
of a terrific move by Nicholson and Donnelly. A suitable finish would have capped the move off as a contender for goal of the season but the young striker couldn`t quite curl the ball past Combe.
With ten minutes remaining Killie grabbed a consolation goal. Stillie couldn`t hold Invincible`s shot and Gary WALES was first to react to poke the ball into the open goal.
For all the football played by the Pars on the day it was the plain old route one that restored the three-goal lead for the hosts in the last minute of regular time. Stillie`s long kick was headed down by Mehmet and Craig BREWSTER held off the attentions of Ford long enough to rifle the ball in off Combe`s bar.
Invincible had one last chance to grab a second for Killie in the dying seconds but knocked the ball too far ahead of himself to capitalise. In all honesty a second would have made Kilmarnock look a lot better than they really were and would have detracted from what was the best footballing performance by the Pars in a long time.
| | | |
| --- | --- | --- |
| DUNFERMLINE | | KILMARNOCK |
| 4 | Goals | 1 |
| 12 | Fouls | 10 |
| 1 | Corners | 7 |
| 8 | Shots On | 4 |
| 1 | Shots Off | 4 |
| 1 | Hit Woodwork | 0 |
| 4 | Offside | 2 |
| 0 | Yellow Cards | 0 |
| 0 | Red Cards | 0 |
Craig Brewster Post Match
Davie Hay Post Match
Greg Ross Post Match
Billy Mehmet Post Match

Dunfermline: Stillie; Ross, Wilson, Labonte, Thomson; Nicholson, Darren Young (Bradley 79), Donnelly, Mason; Mehmet, Brewster


Dunfermline Subs: Langfield, McKeown, Campbell, Wilson, Scullion, Dunn


Dunfermline Strip: Home White and Black


Dunfermline Goal Scorers: Nicholson (30), Mehmet (37), Wilson (57), Brewster (90



Dunfermline Yellow Cards: none



Kilmarnock: Combe; Greer, Lilley, Ford, Leven; Invincible, Locke, McDonald, Johnson (Murray 65); Nish (Wales 65), Dargo (Dindeleux HT)


Kilmarnock Subs: Smith, Fowler, Joly, Naismith


Kilmarnock Goal Scorers: Wales (80)



Kilmarnock Yellow Cards: none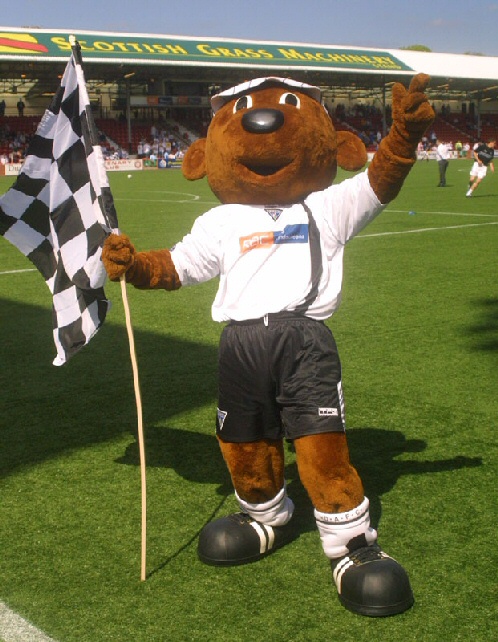 Sammy says thanks very much for visiting our web site where we have lots of news for young Pars fans.