SPL v Motherwell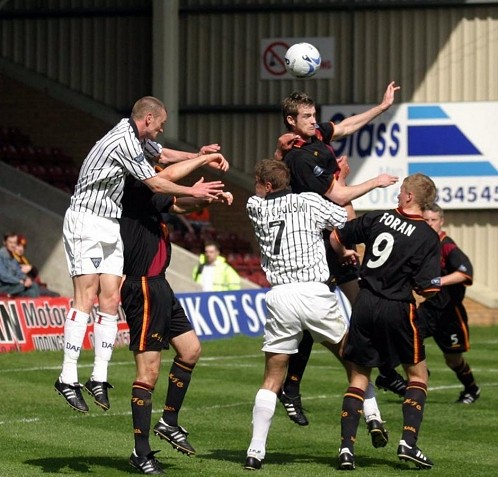 MOTHERWELL 2 DUNFERMLINE 3

Date: 29/04/06

Fixture: BOS SPL Premier League

Attendance: 0

Kick Off: 15:00

Referee: Charlie Richmond

Weather: Sunny 15ºC

It was a beautiful sunny afternoon in North Lanarkshire for Dunfermline`s penultimate away match of the season. Noel Hunt and Scott Muirhead were missing with a dead leg and heavy cold respectively. This meant that there were starting places for Frederic Daquin and for the first time since 21st January at Easter Road, for Iain Campbell. Home Manager Terry Butcher made one change preferring Jim Paterson for Kevin McBride.

Butcher`s boys were seeking full points in their aim to get the five required to break the 50 barrier whilst Leishman`s Lions were in search of a point that would put any sneaking doubt over relegation out of the way. Motherwell playing in the all black strip that you would have expected to see the Pars in, kicked off towards the empty away South stand since the travelling support were housed in the Main Stand.
It was long distance viewing for Pars fans though in the opening five minutes as the home side pinned Dunfermline back. Within 20 seconds indeed Aaron Labonte was called upon to head away a dangerous ball pumped into the six yard box by Martyn Corrigan. Play stayed in the Pars half and when Greg Shields could only get a toe to a loose ball, Jim PATERSON gathered and picked his spot, top right from 25 yards.
Jim Hamilton and David Clarkson congratulate Jim Paterson for his 7th minute strike
The goal awoke Dunfermline and immediately managed to move the game out of their final third. There was a nice forward move from Gary Mason through Labonte to Daquin but the Frenchman failed to get in the cross and only a throw in could be gained. On the quarter hour Bartosz flicked on a McGregor kick for Burchill to speed into the box with but his lay off to Campbell only brought about a corner on the left that `Well headed clear.
The Pars continued to push up with the strikers combining to allow Campbell a good outswinging cross that Daquin was just beaten too. When the ball broke to Phil O`Donnell he evaded Labonte, sent Paterson off down the left and his shot from the left corner of the box was well saved by McGregor requiring Scott Thomson to head the skied ball behind for a corner.
Dunfermline were rewarded for their attacking efforts in 21 minutes. Tarachulski won possession just a yard inside the Motherwell box on the right, he looked up and with cool precision picked out Iain CAMPBELL just eight yards out on the left who fired the ball in at an angle at the right goalpost. It was the 20 year-old son of Dick Campbell`s first ever goal for Dunfermline and quite a cracker!
Iain Campbell did not know how to celebrate his goal, he had never scored before
Just eight minutes later another piece of fine play by Tarachulski heading the ball into the centre of the penalty box for Burchill ended up with referee Charlie Richmond pointing to the spot. Mark Burchill spun and with three `Well players around about him was taken down. Little dispute, and BURCHILL stepped forward to send a low left footed effort into the bottom right as Graeme Smith went the other way. Dunfermline 2-1 up but with an hour to play.
Nothing looked like changing before the interval although there was a dodgy moment just two minutes from the break when Wilson and Campbell looked like they had set up a `Well chance deep in their own area but the home side failed to take the chance. In 45th minute a free kick 30 yards out was driven through the defensive wall but the all royal blue keeper easily gathered.
Mark Burchill shows how to celebrate as he hits the target from the penalty spot after 30 minutes
Half Time: Motherwell 1 Dunfermline 2
Dunfermline started the second half with intent with especially Tarachulski causing the home side problems. Mark Burchill took an early pit stop to change his boots and they were soon to claim their first goal of the afternoon. It was just five minutes into the second half when Labonte`s throw in to Tarachulski down in front of the main stand caught the home side in slumber. The big Pole travelled to the edge of the box played the ball off Burchill and then cut cut back from the byeline for Gary MASON to deflect the ball in softly at the left post.
Motherwell tried hard to get back into the game. Butcher committed a double substitution with Scott McDonald and Kevin McBride replacing David Clarkson and Richie Foran on 55 minutes. McDonald buzzed around and looked threatening. Greg Shields dealt with him but McGregor had to pull off a fine save when the Aussie let go from the right side of the box. The 65th minute corner brought Motherwell back into it.
The corner from the left side was gathered by McDonald on the right side of the box and laid it back for Stephen CRAIGAN to ram the ball into the net from 15 yards. Four minutes later McGregor pulled off a great blocking save as Brian McLean headed goalwards from close in and Mason did a great job in closing out McDonald as he lined up to net from 12 yards.
Scott Thomson was forced to go off in 72 minutes with an achilles injury and Craig Wilson came on. As the side reshuffled with Daquin going left and Iain Campbell dropping back, the defence had some nervous moments and still McDonald caused the most concern. A 78th minute header from Jim Hamilton saw McGregor pull off yet another great save from McDonald.
Six minutes from full time there were loud appeals from the home stands as Labonte knocked over McDonald on the left side of the Pars penalty box. The ref would have none of it and McDonald hobbled off so Well introduced Stephen McGarry in his place.
As five minutes of additional time was announced Well earned a free kick on the edge of the Dunfermline D and McGregor again pulled off a fantastic one handed save to deny Jim Paterson`s fine shot.
This was a well deserved away win for the Pars, their first at Fir Park since David Moss won the day for the Pars back in August 2000. A fine display from the Fifers; McGregor was magnificent and Tarachulski made a huge contribution. Goals matter and Burchill and Iain Campbell took them really well. Gary Mason was surprised to get the credit for his but Burchy wasn`t claiming the third this week.
Dunfermline: Allan McGregor; Aaron Labonte, Greg Shields, Scott Wilson, Scott Thomson (Craig Wilson 72); Frederic Daquin, Greg Ross, Gary Mason, Iain Campbell; Mark Burchill (Andy Campbell 71), Bartosz Tarachulski (Stephen Simmons 80


Dunfermline Subs: Bryn Halliwell, Nick Phinn, Martin Camano, Jamie McCunnie


Dunfermline Strip: Home White and Black


Dunfermline Goal Scorers: Campbell (21), Burchill (30 pen,), Mason (50)



Dunfermline Yellow Cards: S Wilson (66), McGregor (81



Motherwell: Graeme Smith; Martyn Corrigan, Stephen Craigan, Steven Hammell; Brian McLean, Brian Kerr, Phil O`Donnell, Jim Paterson, Ritchie Foran (Kevin McBride 55); David Clarkson (Scott McDonald 55 (Stephen McGarry 86)), Jim Hamilton.


Motherwell Subs: Colin Meldrum, Paul Quinn, Mark Reynolds, Marc Fitzpatrick


Motherwell Goal Scorers: Paterson (7), Craigan (65)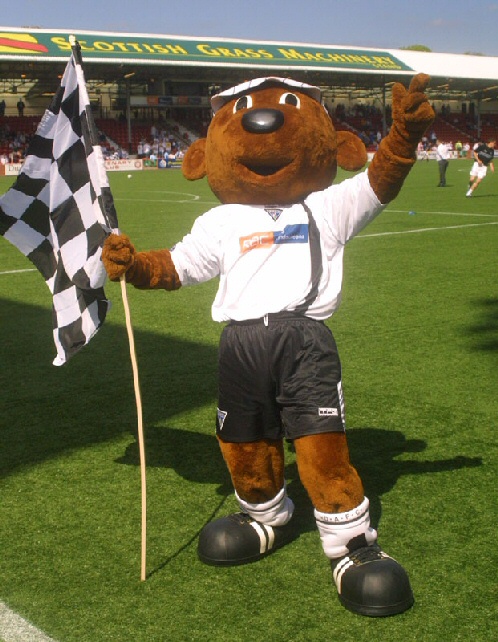 Sammy says thanks very much for visiting our web site where we have lots of news for young Pars fans.