SPL v Falkirk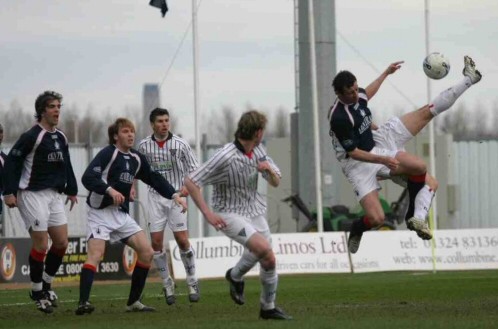 FALKIRK 0 DUNFERMLINE 0

Date: 15/04/06

Fixture: BOS SPL Premier League

Attendance: 5413

Kick Off: 15:00

Referee: William Collum

Weather: Overcast 14ºC

Injuries and suspensions test every first team squad but for Jim Leishman the exam has become a severe one. Without a host of midfield players available to him the midfield for this important clash at the Falkirk Stadium had a make shift look with a new and untried combination. There were just two changes from the side that lost 1-0 to the Bairns a fortnight before at East End Park, whilst Falkirk unsurprisingly fielded the same eleven that defeated Dundee United.

Dunfermline`s youngest ever player in the SPL, Nick Phinn, was given his first start replacing Greg Ross who was serving a one match ban for his red card at Tynecastle. The teams entered to the theme tune to Local Hero and both sets of fans were hoping to see their team fulfil that role.
The Pars kicked off attacking the goal in front of the Kier Homes Away Stand that housed the 1305 fans who had travelled west along the A985. After several throw ins down the left Scott Muirhead was able to send a lengthy effort in to the Falkirk six yard box that Andy Tod flicked on but Jamie McCunnie`s attempt to set that up for Noel Hunt was intercepted.
Falkirk had an early opportunity with Allan McGregor having to thwart Steven Thomson and then after Scott Wilson conceded a corner on the right Craig cross was eventually swept wide by Lecsinel.
On 10 minutes Tod broke down a Falkirk attack and after picking out Mark Burchill in the centre circle the ball was switched left where Scott Thomson scampered up the wing but he was penalised for his efforts to resist the challenges of a Falkirk defender. There was then a controversial moment as Allan McGregor went to the right extremity of his box to cut out a long ball to Kenny Milne. In taking the ball the keeper carried the ball out of his box and so referee William Collum awarded a free kick six yards out from the byeline on the edge of the box.
Fortunately Falkirk overstruck the delivery and the sweat was over but seconds later McCunnie misjudged a pass back. The ball went straight to McBreen who put in a shot from 15 yards but he hit it straight at McGregor. A 17th minute free kick on the Dunfermline right was flighted into the six yard box. Burchill raced in but was penalised for tugging a shirt even before he failed to make contact with the ball.
A 21st minute free kick from 25 yards was taken by skipper Scott Thomson but the ball hit the right support for the net. Karl Dodd then almost made a fatal mistake with a pass back to his keeper that was then cannoned off Mark Burchill and eventually cleared.
Daniel McBreen`s 27th minute shot was deflected for a corner on the left that caused Allan McGregor problems but his defence cleared. There was controversy two minutes later when Alan Gow went down as he cut through the left side of the Pars penalty box but the referee`s whistle didn`t sound until McBreen chopped down Thomson and the Pars were able to re-group.
Patrick Clegg wasted a couple of free kicks from midway inside the Pars half and Falkirk kept pressure on the Fifers as their midfield struggled to keep possession and create anything constructive. A Hunt move nine minutes from the break provided a little relief as Muirhead chased up the left but the ball was seen off for a disputed goal kick.
Karl Dodd took a shot at goal as he went on a run through the middle but his long range attempt was blocked by Greg Shields. At the other end Hunt tried to score from a McCunnie cross from the right but his stylish overhead kick was well wide left. In stoppage time at the end of the half Scott Wilson`s tackle on Alan Gow earned him a yellow card and the Bairns a free kick in a central position just 25 yards out. Gow got up and took the setpiece himself but fortunately sent it over the crossbar.
Half Time: Falkirk 0 Dunfermline 0
Falkirk were waiting for Dunfermline in the second half and from the kick off they pressed down the left. Two Kenny Milne crosses were headed clear by first Andy Tod and then Nick Phinn. McGregor required treatment after he was able to clutch the ball.
Dunfermline countered with two long throws from either side failed to create a shot or header of any sort but as Labonte pushed forward he won a corner on the right but Muirhead`s cross was easily cleared. Milne`s drive into the Pars box was stopped by Labonte and when the ball broke to McBreen it was deflected behind for a 52nd minute corner.
Having survived that one then Alan Gow`s pass to Steven Thomson broke off Shields for another corner on the right. This one was not taken by McGregor as it was struck across the box about ten yards out and when the ball sat up for Milne it took a Labonte stop to prevent the opening goal.
Iain Campbell was introduced in place of Jamie McCunnie just ten minutes into the second half but Falkirk continued to have the upper hand. A 61st minute break by Steven Thomson aided by a Wilson mistake, almost let in McBreen but the square pass from the right was just behind McBreen in the centre of the box.
Muirhead conceded a 63rd minute corner when Craig`s cross from the left cleared McGregor but Tod was up to deal with it. Scott Muirhead limped off in 65th minute as the knee injury that made him a doubt for this derby game was replaced by Bartosz Tarachulski.
Immediately a Thomson - Tarachulski break up the left just about put the captain in for a goal but the defence blocked him out, prompting loud appeals for a penalty from the big Pole. Bartosz then manufactured the Pars best chance of the match receiving a quickly taken throw in on the right and then bursting into the Falkirk penalty area to produce a fine cross from the byeline that Hunt narrowly missed. Burchill following up despatched the ball over the crossbar from the edge of the box.
With twenty minutes remaining Russell Latapy came on for Falkirk and Scott Thomson assumed a marking role on him. The remaining midfielders carved out a chance with Phinn`s ball wide left to Campbell being swept high into the goalmouth where the red shirted keeper Mark Howard collected.
The crossbar saved Dunfermline in 79th minute went Tiago picked out McBreen 20 yards out and he released a fine shot that had the keeper beaten. End to end stuff continued with Scott Wilson heading wide a Iain Campbell corner from the left.
In 84 minutes Iain Campbell set in a free kick from the right and Tarachulski dived in to head wide right. The Pole then won another corner on the right that Campbell again delivered. The keeper came for the ball but it broke to Andy Tod but the keeper was in on him to prevent the shot.
An 88th minute free kick again won by Tarachulski was not to bring a goal but a minute later Tarachulski sent Labonte down the right to cross for Burchill but his header landed on the roof of the net. The match ended with Dunfermline putting up more of a push but lack of shots on target meant that the keepers had easy days and 0-0 was inevitable.
The second half was a much better affair with the Pars coming back into things after a period of sustained pressure. Best for the Pars were the back three of Tod, Shields and Wilson but young Nick Phinn did well on his starting debut. Tarachlski`s effort could not be disputed unfortunately most times he was far from scoring.
Falkirk could feel aggrieved, their effort too failed to create the match winner and Manager John Hughes felt that his team was lacking belief.
Livingston`s 3-1 win over Dundee United pegs the Pars breathing space to six points meaning that next Saturday`s match against them will be a fiercely contested affair.
Above: Nick Phinn who made his starting debut in this match
Dunfermline: Allan McGregor; Greg Shields, Andy Tod, Scott Wilson; Aaron Labonte, Jamie McCunnie (Iain Campbell 55), Scott Thomson; Nick Phinn, Scott Muirhead (Bartosz Tarachulski 65); Mark Burchill, Noel Hunt


Dunfermline Subs: Bryn Halliwell, Frederic Daquin, Andy Campbell, Martin Camano, David Muir


Dunfermline Strip: Home White and Black




Dunfermline: Burchill (27), Wilson (45+1



Falkirk: Mark Howard; Jack Ross, Tiago Rodriguez, Karl Dodd, Jean-Francois Lecsinel; Steven Thomson, Patrick Clegg, Liam Craig (Russell Latapy 72), Kenny Milne; Alan Gow, Daniel McBreen


Falkirk Subs: Allan Ferguson, Andy Lawrie, Pedro Moutinho, Vitor Lima, Mark Twaddle, Stephen O`Donnell




Falkirk Yellow Card: McBreen (64)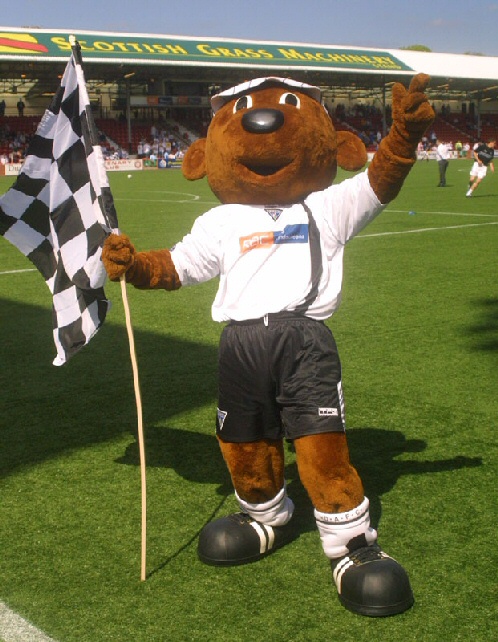 Sammy says thanks very much for visiting our web site where we have lots of news for young Pars fans.