SPL v Rangers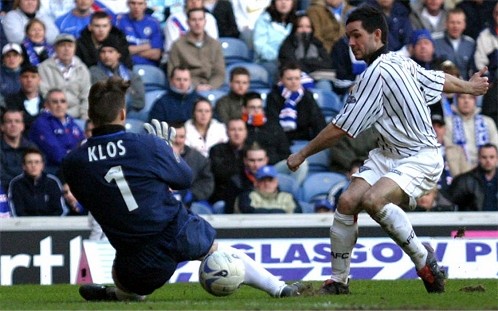 RANGERS 1 DUNFERMLINE 0

Date: 25/03/06

Fixture: BOS SPL Premier League

Attendance: 49017

Kick Off: 15:00

Referee: Brian Winter

Weather: Sunny Intervals 12ºC

Dunfermline had only won once in the 48 Premier Division/SPL meetings with Rangers and after their performance six days previously down the road at Hampden there were few observers, even those with black and white spectacles, who would doubt that a home win was unlikely. 41% of SPL matches have thrown up home wins this season and with odds of 14-1 against a Pars victory then a Rangers win was expected on all fronts.

Between Alex McLeish`s men and another three points that would keep them on the tail of Hearts for the second Champions League spot was Jim Leishman`s Pars. Leish was famously responsible for Dunfermline`s last league victory at Ibrox back on 27th April 1972; scoring the winning goal in a seven goal thriller. Could he repeat the feat as a Manager?
Complying with the loan agreement with Rangers, Dunfermline were forced to replace Allan McGregor with Bryn Halliwell. Andy Tod, Simon Donnelly and Scott Muirhead came into the side replacing Freddie Daquin, Andy Campbell, Mark Burchill. 18-year-old Peter Shaw was the goalkeeping cover on the bench.
Rangers made three changes; Stefan Klos came in for only his third start of the season, Kris Boyd was preferred to 18 goal Peter Lovenkrands and Stephen Smith to Ian Murray. The Pars kicked off through Lee Makel and Simon Donnelly attacking the goal at the Copland Road end. From the kick off Dunfermline were denied a corner in a decision where referee Brian Winter overruled his assistant.
Playing with five men strung across the back and only Donnelly up front the Pars were soon pegged back in their own territory. Labonte conceded the first corner of the game but it was him who got Chris Burke`s delivery away. In the seventh minute there was a clink of light for visitors as Makel Mason and Muirhead exchanged passes before Makel found Ross with a fine pass that he almost managed to feed on to Mason as he raced into the Rangers box.
Bryn Halliwell was in the thick of the action in the tenth minute when a spectacular overhead kick from Dado Prso was deflected on target by Kris Boyd and the Englishman cleared off his own goalline with his feet. Two minutes later Thomas Buffel made the left byeline to send in a chance for Boyd but he sent his header on to the roof of the net. A minute later it looked like Prso had beaten Halliwell but the keeper`s right hand post saved the day and then Boyd blasted the rebound wide right.
The explosives continued with Greg Shields cutting out a Burke cut back and then Prso driving a shot at Shieldsie. Then within twice within the 21st minute Halliwell denied Barry Ferguson; the first after Smith broke forward and set up his captain with a prime chance from 16 yards but the keeper was well out to block. Next Ferguson was allowed another pop shot from the edge of the box and this time Halliwell`s outstretched right hand turned the ball around his post.
It was like three and in as the Pars defence kept the Ibrox team out. A 25 yards rocket from Boyd then found Halliwell but Dunfermline had an opportunity after Sotirios Kyrgiakos gifted Scott Muirhead a pass and the ex Dons cut back to Donnelly was just a tad behind the striker to allow a shot.
Another spectacular save from Halliwell in 27th minute prevented a Burke effort from the right corner of the penalty box. The sun came out and things looked better for the Pars. Rangers were contained until a 36th minute tackle by Donnelly on Burke presented Rangers with a free kick that Burke sent over. Prso latched on to the defensive header but Gary Mason headed his cross away.
Next Alan Hutton accepted a square ball from Ferguson, took the ball to the byeline on the right and as Buffel was winding up to score Shields again killed the chance. The home support had given up any hope of a first half goal, heading for their half time pie long before Brian Winter halted he proceedings. So for Dunfermline it was so far so good; great defensive play and a fine performance from Bryn Halliwell.
Half Time: Rangers 0 Dunfermline 0
A determined run down the right by Aaron Labonte immediately took the game to Rangers; his cut back to Makel was sent into the Rangers box and Stefan Klos had his first save of the afternoon blocking as Gary Mason turned the ball on goal. Ferguson soon re-discovered the script firing an early chance over the crossbar. A 49th minute break by Burke enabled him to send in another good opportunity from the right byeline but again the Pars survived.
A slice by Scott Wilson set up Buffel for a knock back but his team mates and a couple of defenders missed it before Prso despatched yet another ball over the top. A brief visit into the Rangers half took the pressure off the hard worked five man defence.
In 56th minute Lee Makel went down with an ankle injury when Prso`s tackle to prevent a 35 yard shot caught the ex Livi man nastily. On the resumption Halliwell pulled off another brilliant save from Buffel as the ball looked destined for the top corner. Jamie McCunnie then replaced Makel and a fine drive by Ross earned the Eastenders their first corner of the match in the 60th minute. Muirhead`s ball in was easily headed clear however.
As the Pars weathered yet another Rangers storming the bears all around the stadium were getting increasingly agitated with the lack of goals. There were weak appeals for a penalty for Labonte`s challenge on Buffel after Prso had got around Wilson. A 66th minute free kick in a central position then gave Rangers a good chance but Prso drove the attempt on goal straight into the four man wall stationed on the 18 yard line.
McCunnie headed a Prso effort off the goalline but with Peter Lovenkrands` introduction the pressure intensified. It was the sub who got down the right to send in a ball that KYRGIAKOS deflected in to the far post to put Rangers ahead in the 70th minute.
Halliwell fisted away a Ferguson free kick from 25 yards out then held as the corner kick was driven back in on goal. Dunfermline brought on Freddie Daquin and then later Bartosz Tarachulski and Andy Tod was thrown up front. In 90th minute Toddy was in the centre of the Gers box but he failed to control the pass. Sniffing a chance the Fifers finished strongly; a speculative Mason lob in 92nd minute went over the top but then a fine shot from 20 yards off the boot of Tod made Klos pull off a desperate save.
After three minutes of added time it was defeat but not the kind that was expected. The Pars frustrated Rangers for the entire 90 minutes and the players all put in a great shift.
Dunfermline Squad: Bryn Halliwell; Aaron Labonte, Andy Tod, Greg Shields, Scott Wilson, Scott Thomson; Greg Ross (Bartosz Tarachulski 84), Gary Mason, Lee Makel (Jamie McCunnie 59), Scott Muirhead (Freddie Daquin 76); Simon Donnelly.


Dunfermline Subs: Peter Shaw (GK), Andy Campbell, Iain Campbell, Nick Phinn.


Dunfermline Strip: Home White and Black




Dunfermline Yellow Card: Wilson (70)



Rangers Squad: Stefan Klos; Alan Hutton, Julien Rodriguez, Soto Kyrgiakos, Stephen Smith; Chris Burke, Thomas Buffel (Peter Lovenkrands 68), Barry Ferguson, Brahim Hemdani, Dado Prso, Kris Boyd


Rangers Subs: Scott Gallacher, Marvin Andrews, Nacho Novo, Gavin Rae, Ian Murray, Dany N`Guessan


Rangers Goal Scorers: Kyrgiakos (70)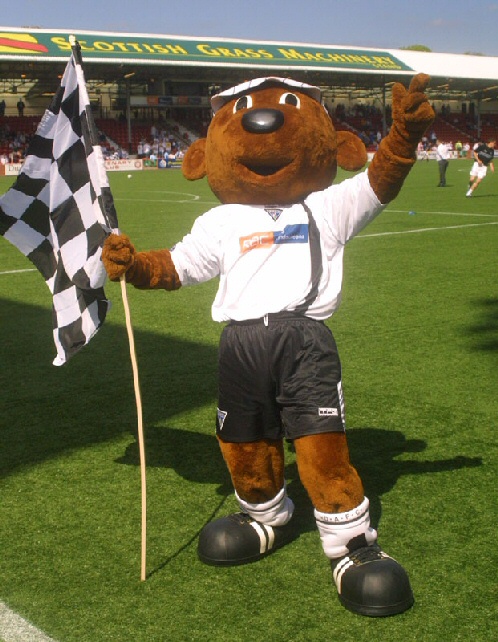 Sammy says thanks very much for visiting our web site where we have lots of news for young Pars fans.