SPL v Aberdeen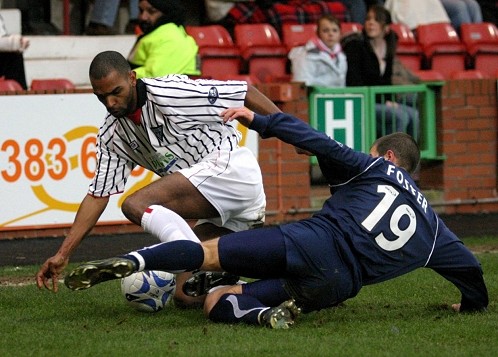 DUNFERMLINE 1 ABERDEEN 0
Date: 11/03/06

Fixture: BOS SPL Premier League

Attendance: 5308

Kick Off: 15:00

Referee: Iain Brines

Weather: Damp 2ºC

From the previous match at Kilmarnock, out went Andy Tod, Craig Wilson, Jamie McCunnie and Lee Makel to be replaced by Scott Wilson, Derek Young, Gary Mason and Greg Ross. Despite deliberate concentration on the SPL until after this match there was sure to be a real feeling that players were playing for their CIS Insurance Cup Final places.
Aberdeen were without their long termed injured: Ryan Esson, Michael Hart, Jamie Smith, Barry Nicholson and Richie Byrne. Andrew Considine was available again and Ferne Snoyl was passed fit but both found themselves on the subs bench. This all meant that Jimmy Calderwood, too, made four changes from the side that lost 3-0 at Celtic Park the previous Saturday. Stevie Crawford, Kyle Macaulay, Richard Foster and Darren Mackie all came into the starting line up.
Jimmy Calderwood watched the match from the stand as he served out a touchline ban for his Tannadice incident earlier this season.
It was Aberdeen in their all navy strip, who got the match underway defending the goal in front of the 50% full East Stand. From a Danny Griffin throw in, Crawford returned it to the man who started the season at Stockport County and his cross allowed Aberdeen the first shot of the match but Macaulay`s effort from the edge of the box was well wide right.
Scott Muirhead rides the challenge from Danny Griffin
Next Dunfermline forced a corner on the left and when Scott Muirhead`s delivery was headed away the ball dropped nicely for Greg Ross but he shot well over the crossbar. Langfield was called upon to clutch a Hunt head on from a long thrown in by Muirhead and then just when it looked like Muirhead had been played into a great position the stand side assistant`s flag was raised.
A 15th minute break manufactured out of a Muirhead, Hunt Burchill interchange sent Hunt down the left wing but his cross went straight to the turquoise shirt of Langfield. There was a let off for the Pars in the next minute when a cross from the right was not taken by Allan McGregor and fortune favoured the Fifers as both Macaulay and Clark missed contact too all within the Pars six yard box.
Aberdeen were taking the upper hand and Foster ended a fair passing move by shooting wide of McGregor`s left hand post. Russell Anderson then sent a header from a Scott Severin free kick outside the same post.
Greg Ross, Noel Hunt and Gary Mason
In 24 minutes Scott Muirhead got round Danny Griffin out near the left corner flag. His pass was then perfect for Mark Burchill to direct on target by Anderson blocked the effort and only a corner resulted. Noel Hunt header that narrowly over the crossbar but at least if only briefly, this broke down the period of Dons dominance.
Dunfermline got pegged back into their own half again with Ross`s boot out to Burchill giving some relief but Muirhead`s cross field pass was wayward and then Hunt`s delivery from the right corner flag went to Langfield. Severin had a wild shot in 37 minutes but really the first half was reflecting the fairly poor March weather. There was little to warm either fans.
Derek Young shadowed by Russell Anderson and (right) Mark Burchill keeps Kevin McNaughton away from the ball
Five minutes from the break a corner won by Ross on the right was delivered twice by Muirhead and when the ball dropped for Gary Mason on the edge of the box he tried to inject the sunshine with a shot that just cleared the crossbar. Two minutes later captain Scott Thomson tried his hardest to alter things with a driving run, lay off to Hunt and then play in to Burchill but Aberdeen stepped in and it was to remain goalless at the interval.
Half Time: Dunfermline 0 Aberdeen 0
Frenchman Frederic Daquin replaced Derek Young for the resumption and the fiery words of half time wisdom set the Pars alight from the kick off. A defensive header from Zander Diamond presented Noel Hunt with the opportunity to play a perfect pass into the path of Mark BURCHILL as he burst into the Aberdeen box and the Pars top scorer accepted the gift sliding the ball passed Langfield to put the home side into a 48th minute lead.
That lead might have doubled next minute when this time Hunt provide Burchill with another close in chance but this time the one time Pars reserve keeper tipped the ball out to his right and Griffin booted clear. In 54 minutes the fans were on their feet again when a corner from the right looked destined for the net but Burchill`s deflection came thundering back off the crossbar.
This was much better stuff from Dunfermline although it required a brave injury risking block from Scott Thomson to deny Anderson from eight yards. Aberdeen tried to get back into the match and Thomson had another good block on a shot from Clark. Diamond pushed up and swung over a high ball from the right that McGregor took well as sub Ferne Snoyl piled in.
There were thrills and spills on 65 minutes when firstly Burchill beat Anderson but then failed to slip an early ball to Hunt and then one almighty scramble as Langfield dropped a high ball. A couple of free kicks that Dunfermline pumped up on to the edge of the Dons box kept the pressure on the Two Jimmies side and when Snoyl`s 70th minute shot was deflected away by sub John Stewart it was looking like Dunfermline`s day.
A 76th Muirhead free kick from the right was held by Aberdeen and they countered but Stewart sent Crawford`s chest down from a free kick that earned Scott Wilson a yellow card, over the bar. Dunfermline were next to threaten with Daquin`s good burst of speed sending Ross wide right and he teased Anderson before sending over a cross that no Pars near could get near.
Gary Dempsey got a `arm` welcome back to his old club coming on for Macaulay with nine minutes remaining. His free kick into the Pars box was easily held headed clear by Pars sub Bartosz Tarachulski. A long clearance from McGregor almost let Hunt in between Diamond and Langfield in 86 minutes but there was to be no more goals. It did however require a superb tackle from Shields on Crawford on the edge of the six yard box to keep it that way.
The home fans were on good form and it was great to hear the number joining the East End choral ensemble. Freddie Daquin enjoyed the `Freddie, Freddie` chants and well did he deserve them. The Pars no.26 changed the game with a great second half performance.
The final whistle brought a huge cheer from the home support and that became three cheers as both the Livingston and Falkirk results were announced as 3-1 against. The result takes Dunfermline back into tenth place in the SPL for the first time since the first day of October. A great send off to the CIS Cup Final, bring on the Celts!
Dunfermline Squad: Allan McGregor; Aaron Labonte, Greg Shields, Scott Wilson, Scott Thomson; Derek Young (Frederic Daquin HT), Greg Ross, Gary Mason, Scott Muirhead; Noel Hunt (Andy Tod 88), Mark Burchill (Bartosz Tarachulski 81)
Dunfermline Subs: Bryn Halliwell, Iain Campbell, Nick Phinn, Simon Donnelly.
Dunfermline Strip: Home White and Black
Dunfermline Goal Scorers: Burchill (48)
Dunfermline Yellow Card: Wilson (76)



Aberdeen Squad: Jamie Langfield, Danny Griffin (John Stewart 64), Russell Anderson, Zander Diamond, Kevin McNaughton (Ferne Snoyl 57); Richard Foster, Kyle Macaulay (Gary Dempsey 81), Scott Severin, Chris Clark; Stevie Crawford, Darren Mackie.


Aberdeen Subs: Greg Kelly, Steve Lovell, Andrew Considine, Neil McFarlane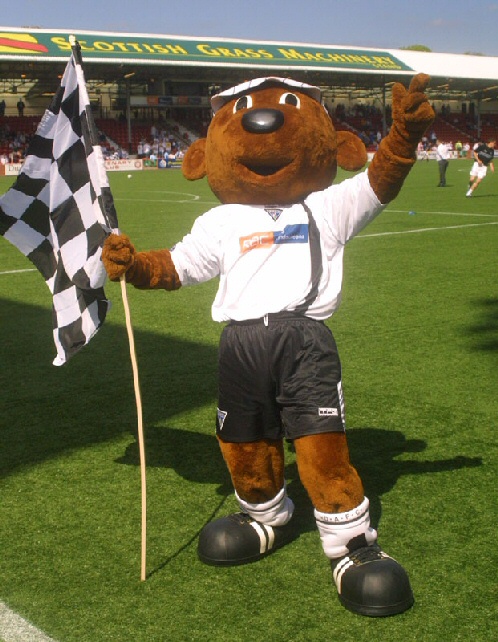 Sammy says thanks very much for visiting our web site where we have lots of news for young Pars fans.