SPL v Motherwell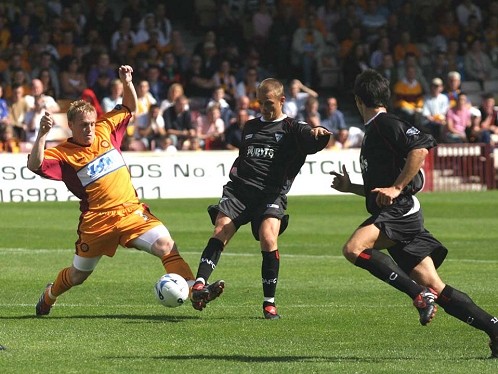 MOTHERWELL 1 DUNFERMLINE 0

Date: 06/08/05

Fixture: BOS SPL Premier League

Attendance: 4649

Kick Off: 15:00

Referee: Steve Conroy

Weather: Sunny 18C

After the euphoria around Motherwell`s last two SPL matches against Celtic they now have to turn their attention to taking on the much smaller SPL fish. Dunfermline travel to Fir Park because of the turf laying at East End Park, in search of their first win there in since August 2000.
New signing from Yeovil Town, Bartosz Tarachulski (above) was on the bench as Jim Leishman fielded an unchanged team from the eleven that started at Easter Road last Saturday. Motherwell made three changes from the side that drew 4-4 with Celtic. Gordon Marshall, Scott McDonald and Scott Leitch are out injured so former Rangers keeper Graeme Smith, David Clarkson and Brian Kerr take their places.
The Fifers kicked off defending the goal in front of their own travelling support. Within 45 seconds Darren Young fired a shot over the crossbar after his brother`s cross had been booted back out as far as Gary Mason. laying was quickly down at the other end with Scott Thomson conceding a corner to halt Clarkson`s run. Another two corners kept early pressure on the Pars defence and although the defence looked somewhat vulnerable they survived.
While the home side continued to enjoy more of the ball it was the Pars who created two good chances. In 7th minute Kinniburgh did enough, some might say too much, to halt Greg Shields` run into the box and the keeper collected. Minutes later a Lee Makel shot from 25 yards was well struck but went straight into the light blue shirted arms of Smith.

Pars Fans in the away end
Motherwell`s pressure had caused the defence to be busy and in 14th minute Bryn Halliwell had to do well to hold a Brian Kerr drive from the edge of the box after Paterson had got the better of Shields out on the left and sent over a useful ball. Dunfermline responded with a nice passing movement from Makel to Mason, threading the ball through to Donnelly but his shot from 25 yards was wide right. Next Darren Young fought for the ball down on the left wing and returned a ball that Derek headed over the crossbar.

Darren Young got some physical attention and eventually picked up his second yellow card in two matches
Jim Hamilton had an opportunity when put through but his shot from 18 yards went directly to Halliwell. The match however became much more difficult for the Pars when central defended Scott Wilson was red carded for a head butt on Alan McCormack in the 24th minute. The Motherwell man had made a meal of Scott`s challenge, diving over his outstretched left knee and the ex Ger could only blame his reaction to the hot weather.

You`re off - Scott Wilson ends his match in 24th minute
Scott Thomson and Andy Tod were kept really busy in the middle of a back four with Shields and Morrison on the flanks as `Well pushed forward. Halliwell had to collect a number of dangerous balls and a fine shot from O`Donnell after McCormack had laced through a fine ball down the right channel.
When Derek Young was taken down for a free kick 35 yards out Lee Makel tested Smith but it was back to defending in 34 minutes when Kerr played a neat 1-2 on the top of the box and only the lunging tackle from Shields prevented a shot that might have done severe damage. Eight minutes from the interval Toddy was forced into conceding a corner on the right and when Paterson whipped the ball over Clarkson headed strongly on to the bar. Halliwell got his hands on the ball but failed to hold and Greg Shields had to clear Motherwell`s follow up off the line.
Two minutes later another corner from the right created further problems for the Pars defence and it became a hold out to half time exercise as O`Donnell lofted his shot from the left side of the box well over the bar. 0-0 was the scoreline at the interval and one could only hope that for the second week running the ten man side can do best in the second 45.
No changes at half time from either side, other than Simon Donnelly donning a pair of blue boots in the ame style as the Young brothers, and Motherwell resumed where they had left off. Shields stopped O`Donnell`s twisting and turning progress by conceding another corner but fortunately when Paterson eventually got the ball over it was too big.

Simon Donnelly and Gary Mason put in hard shifts
Dunfermline did their best to stop the Steelmen getting too great a grip on the game. Darren Young was yellow carded and Derek was substituted by Mark Burchill. Terry Butcher introduced Richie Foran and Andy Smith in an attempt to inject something into his attack force. Andy Tod blocked O`Donnell and then booted clear, Gary Mason also belted the ball away and McCormack sent a good chance over the bar after `Well new boy Andy Smith`s cross had been knocked down by Hamilton.
The clock was running down and the 4-4-1 was doing enough to prevent the home side getting too many chances. Burchill ploughed a lone furrow up front and the nearest the amber and claret came to scoring was Foran heading over the bar as he arrived late on a cross from the right.
McCormack tried to work his way into the Pars box and there were loud appeals from the Lanarkshire crowd when the defence caused him to stumble. Referee Conroy was not convinced and his attention then turned to the introduction of Polish striker Bartosz Tarachulski, coming on in 78th minute for Simon Donnelly.

Lee Makel and Bartosz Tarachulski try to break through the Steel defence
Lee Makel come close with an extremely quickly taken free kick from 45 yards as the home supporters started to drift out. Three added minutes were shown and still the Pars defence held. But as everyone knows when you come to Fir Park it is the last two minutes that counts. In the 92nd minute with the ball was driven out of the box by Greg Shields and the Motherwell player on the right looped it back to the far side. Foran headed across the six yard box, there was one almighty scramble McCormack getting in a shot that broke to Jim HAMILTON to turn in off his shin in from three yards. There was no time to get back as the referee brought the game to an end before much more.
This was the cruellest of endings. The Dunfermline defence put in a five star performance when down to ten men. Everyone put in fantastic effort and commitment to stop everything that the Butcher boys could throw at them until the last minute of added time. Halliwell had a fine match without really having any wonderful saves to pull off unfortunately he could just not get to ex Par Hamilton`s effort.
Dunfermline Squad: Bryn Halliwell; Andy Tod, Scott Wilson, Scott Thomson; Greg Shields, Lee Makel, Darren Young, Gary Mason, Scott Morrison; Simon Donnelly (Bartosz Tarachulski 78), Derek Young (Mark Burchill 57)
Dunfermline Subs not used: Sean Murdoch, Greg Ross, Andrius Skerla, Iain Campbell, Noel Hunt
Dunfermline Strip: Away Black Shirts and Black Shorts
Dunfermline Red Card: Scott Wilson (24)
Dunfermline Yellow Card: Darren Young (55)



Motherwell Squad: Graeme Smith; Paul Quinn, Stephen Craigan, Willie Kinniburgh, Steve Hammill; Alan McCormack, Brian Kerr (Shaun Fagan 85), Phil O`Donnell, Jim Paterson (Richie Foran 62), Jim Hamilton, David Clarkson (Andy Smith 60)


Motherwell Subs: Graeme Smith, David Keogh, Marc Fitzpatrick, Darren Smith, Dougie Calder


Motherwell Goal Scorers: Jim Hamilton (92)



Motherwell Yellow Card: Alan McCormack (73)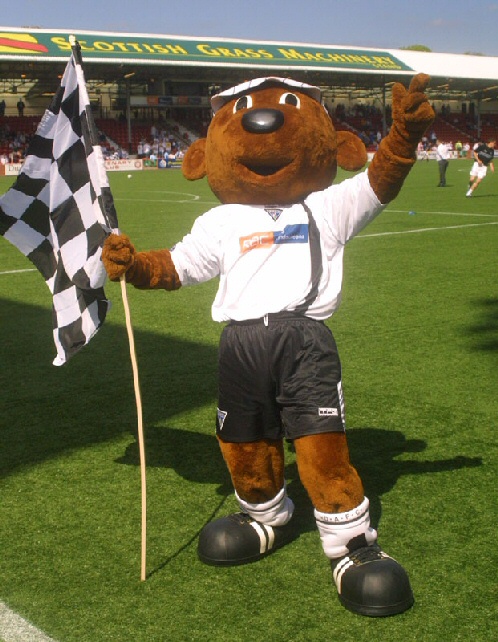 Sammy says thanks very much for visiting our web site where we have lots of news for young Pars fans.