SPL v Inverness Caley Thistle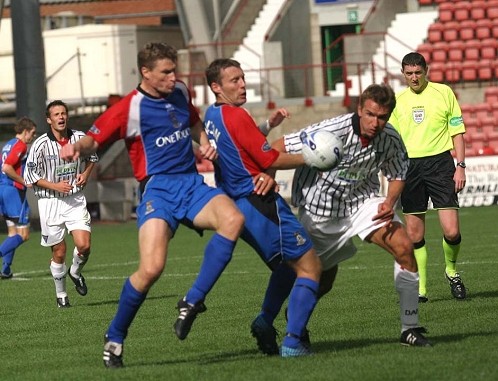 DUNFERMLINE 0 INVERNESS CT 1
Date: 13/08/05

Fixture: BOS SPL Premier League

Attendance: 5005

Kick Off: 15:00

Referee: Craig Thomson

Weather: Changeable 17C

There was a good buzz around the Pars ground with its new carpet of grass as Inverness Caley Thistle provided the opposition. Dunfermline made two changes from the team that started at Fir Park; Andrius Skerla replacing the suspended Scott Wilson and Mark Burchill coming in for Derek Young.
The Brewster Highlanders ended up being the surprise package of last season; they won their first away match of this season at Falkirk and they came to Fife looking for further success as Brew and Dargo kicked off for them towards the McCathie Stand. Play was immediately towards the Pars goal and when Scott Morrison sent the ball out for a throw ten yards out from the Pars byeline a long throw created danger as Skerla challenging with Dods headed backwards and Andy Tod hoofed clear all within the opening two minutes.
The home side got into the game with some good build up that eventually caused problems for the Caley defence when Morrison`s cross was met by the head of Simon Donnelly but the ball was deflected wide for a corner on the right. Morrison took that but Brown fisted clear. The Pars kept up the pressure as Darren Young was flattened by Black and a free kick on the left 17 yards out saw Makel float in a ball that Grant Munro headed clear.
In the 11th minute Donnelly got deep to the byeline on the left and crossed for Greg Shields` header at goal that was deflected over the top for a corner. Several more corners came the Pars way with chances cropping up that maybe should have been taken. Scott Thomson was on the end of a Makel corner in from the left forcing the keeper to save at the far post but he knew little of the next as in 14th minute Morrison`s ball flashed through his six yard box with Skerla just failing to connect.
Another great chance to break the deadlock fell to Mark Burchill in the 21st minute. From just inside the Caley half, Lee Makel lofted in free kick that Andy Tod at the edge of the penalty box headed into the path of the former Celt but the youngster blasted high and narrowly wide from twelve yards out.
Barry Wilson had a poor effort for the visitors firing his 20 yard shot well wide to the right of Halliwell`s goal. Morrison`s shot from a free kick 25 yards out was the easily held by the light blue shirted Mark Brown jumping to his left to take with both hands. Burchill left the field after 29 minutes with a wound that needed stitching and the nearest thing to a goal in his four minute absence was a pass back from Skerla that almost caught out the advancing Halliwell.
As the sun came out Andy Tod`s prod through almost sent Shields free on goal but keeper Brown was first to the ball. Morrison won yet another corner off Dods in the 36th minute and yet again Brown pulled Makel`s delivery out of the air. Barry Wilson was yellow carded in the next minute for a crude tackle on Morrison and Makel`s free kick nearly paid off as the ball slipped through the crowded penalty box for Brown to take at the second attempt. Brown was then out again fast to punch a Donnelly cross off the head of Mark Burchill.
Caley were not really in this at all and McBain shot wildly and well off target. Their first corner took until five minutes from half time to come but it heralded a revival. Caley maintained the pressure with a long throw from the right and although the Pars defended that well enough they did not really clear their defences and when Dods, still up after the long throw in, laid the ball off to substitute Liam FOX the Inverness man, scorer of a goal here back in November last year, continued his habit with a low 20 yard drive into the bottom left.
The Pars had a loud and warranted appeal for a penalty on 45 minutes when Shields cross into the box was played off Darren Young and away off the hand of Dods. No penalty and no half time joy for the Pars. Well against the run of play Inverness led at the interval primarily because Dunfermline just did not take their chances.
Dunfermline kicked the second half off and took the game to Caley forcing a quick corner but almost got caught on the break with Wilson`s effort being turned behind for an early Caley corner. A second Pars corner was scooped over the bar by Skerla and a 30 yard Thistle free kick was hammered into Darren Young in the four man Pars wall.
A nice passing movement in 52 minutes saw six players involved from Donelly`s start to Shields winning a corner off Munro deep inside the opposition penalty box. There was little challenge however to Morrison`s delivery. ten minutes into the second half Grant Munro launched another of his long throws into the Pars penalty box and there was a scuttle to clear. Tokely next drilled a cross cum shot that flashed through the Pars six yard box.
Tempers flared in the 58th minute with Ian Black and Lee Makel being shown yellow cards after Donnelly was left felled on the deck. Three minutes later Ross Tokely saw referee Thomson`s yellow card as he took out Scott Morrison in front of the dug outs. The break in play allowed the substitution of Bartosz Tarachulski for Simon Donnelly and he was the target right away as Thomson lobbed in the free kick but the defence came out on top.
Burchill broke free down the left but rushed his shot shooting early from an angle making it easy for Brown to hold. Further appeals for a penalty came in 70th minute when Bartosz was taken down on the top of the box and cries of despair as Makel received a Morrison pass and crashed a 35 yard shot off the crossbar with the keeper beaten. Brown knew little of Darren Young`s next chance after Shields had cut his way through the Thistle defence but the shot from 15 yards was high and wide.
Derek Young came on for Burchill as the time began to run out for the Pars. Scott Thomson`s ball found Bartosz on the edge of the six yard box but he failed to control it and Brown gathered.
Leishman tried everything withdrawing Skerla and Noel Hunt coming on for the last ten minutes. You began to realise that Dunfermline would just never score as Makel smashed a shot wide, Darren Young saw his curling effort to the far post held by Mark Brown in 88 minutes and Hunt`s shot being blocked by Tokely.
Caley held out for a hard fought victory to make it five SPL matches against the Pars without defeat.
Managers` Post Match Comments
Greg Shields Post Match
Scott Thomson Post Match
Dunfermline Squad: Bryn Halliwell; Andrius Skerla (Noel Hunt 81), Andy Tod, Scott Thomson; Greg Shields, Lee Makel, Darren Young, Gary Mason, Scott Morrison; Simon Donnelly (Bartosz Tarachulski 61), Mark Burchill (Derek Young 73)
Dunfermline Subs not used: Sean Murdoch, Aaron Labonte, Iain Campbell, Craig Wilson
Dunfermline Strip: Home White and Black
Dunfermline : Makel (58)



Inverness CT Squad: Mark Brown; Ross Tokely, Darren Dods, Grant Munro, Stuart Golabek; Barry Wilson (Richie Hart 85), Roy McBain, Ian Black, Richard Hastings (Liam Fox 25); Craig Brewster, Craig Dargo (Steven Hislop 78)


Inverness CT Subs: Michael Fraser, Russell Duncan, David Proctor, Tom Parratt


Inverness CT Goal Scorers: Fox (42)



Inverness CT Yellow Cards: Wilson (37), Black (58), Tokely (61)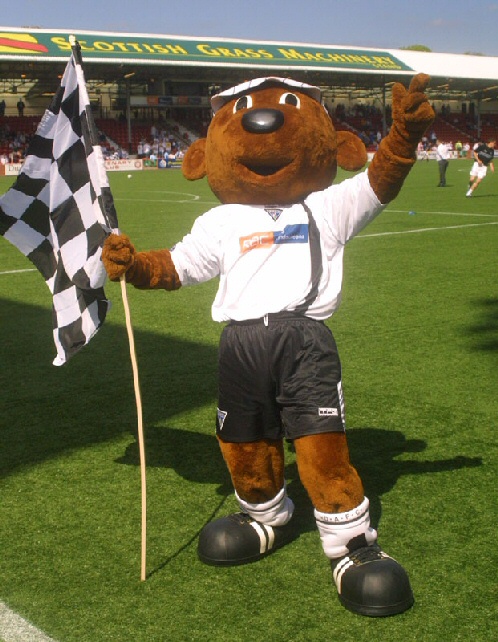 Sammy says thanks very much for visiting our web site where we have lots of news for young Pars fans.