CIS Insurance Cup v Gretna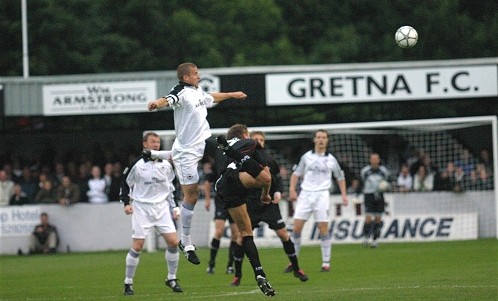 GRETNA 0 DUNFERMLINE 1

Date: 23/08/05

Fixture: CIS Insurance Cup

Attendance: 1405

Kick Off: 19:45

Referee: Dougie McDonald

Weather: Dull, wet, windy 16°C

The locals were very welcoming as SPL Dunfermline came to town, well village. Their optimism was shared with BBC radio and television out in force to witness a CIS Cup shock with the SFL Second Division side fancied against their SPL visitors.
Dunfermline made one change from the side that played at Livingston on Saturday, Scott Thomson returning from injury in place of Greg Shields out with a cartledge injury.
Lee Makel fired a first minute free kick over the crossbar from 25 yards but Gretna were soon on the offensive Baldacchino latching on to a weak Mason pass and testing Bryn Halliwell in 4 minutes. Kenny Deuchar was next to exercise the Pars keeper intercepting a Scott Wilson header before releasing a shot that Halliwell turned around his left hand post. The home side continued to have the best of the early play forcing three corners when the Pars again lived dangerously. Tosh had his shot deflected for the second corner and there were anxious moments from the next corner too.
Chris Innes`s timely tackle on Mark Burchill brought more possession to the Borderers. Gretna then passed off three good chances to open the scoring. Deuchars taking advantage of a Andy Tod slip to fire another shot that Halliwell held. In the 14th minute Ryan McGuffie broke through and Halliwell blocked heroically leaving Baldacchino with an open goal but he managed to blast the ball over the bar.
Well against the run of play Dunfermline were presented with a chance when Darren Young dispossessed Jamie McQuilken on the right wing and shot at Alan Main. The rebound sat up nicely for Mark BURCHILL to slot home from 16 yards.
Going a goal down did little to deter Gretna`s attacking habit. Further corners came their way with James Grady appealling for a penalty as the ball was defended from one on the left in 24 minutes. Two minutes later a well worked move on the right was punctuated by a fine cross from Tosh that McQuilken lined up but shot wide left.
Gretna looked sure to score in 29 minutes but a last gasp tackle by Aaron Labonte denied David Bingham from eight yards. Dunfermline were not in the game but might have gone two up on the half hour had Burchill cross not been too fast for Tarachulski to divert passed Main from six yards. Instead the bal flew through the six yard box. Play switched rapidly to the other end and Tosh`s free kick in from the left was crashed against the crossbar by Derek Townsley.
In the final minute of the first half Townsley was yellow carded for protesting after a corner from the right resulted in a melee in the Pars penalty box and the ball striking a Pars hand.
After the interval Gretna were waiting for Dunfermline keen to resume from where they left off. Playing into the rain Rowan Alexander`s team continued to pile the pressure on the Pars defence. When Tod conceded a corner with a desperate clearance from a Tosh`s shot the set piece dropped to Bingham on the far side of the penalty box and his thundering shot was delicately headed off the line by Makel.
Gretna were full of pace and had plenty of ideas but the Dunfermline defence held fast. Having replaced Tarachulski in 62nd minute, Derek Young provided brief respite for his defence earning a free kick when Townsley was the only man to beat. Scott Wilson`s challenge on Deuchar earned Gretna a 65th minute free kick just 30 yards out and Halliwell had to be at his best to hold McQuilken`s rifled effort
Fifteen minutes from time a swift forward move from McGuffie to Bingham set up Deuchar nicely but his effort from the edge of the box was turned away yet again by the black-shirted defence. Bingham`s stinging shot from 20 yards was set to burst the net and might have but for the body of Gary Mason which was floored by the force of it and yet again the defence survived.
With nine minutes remaining Alexander and Iron`s in the Gretna dugout withdrew both their wingbacks, throwing on Davie Nicholls and Gavin Skelton. The move almost had immediate dividends when Nicholls thundered in a McGuffie lay off that was just inches wide of Halliwell`s left post.
Under all the pressure there was a feeling of inevitability that Gretna just had to score. This was certainly not recommended viewing for Athletic fans of a nervous disposition. After two minutes and 20 seconds of added time, referee Dougie McDonald brought the contest to an end. If it had been decided on possession, shots and corners, Dunfermline would have been out but they have to thank the fantastic display from keeper Bryn Halliwell behind his resolute defence that it will be their team that will be in the third round draw.
Mark Burchill Post Match
Jim Leishman Post Match
Bryn Halliwell Post Match
Dunfermline Squad: Bryn Halliwell; Andy Tod, Scott Wilson, Scott Thomson; Aaron Labonte, Lee Makel, Darren Young, Gary Mason, Iain Campbell; Bartosz Tarachulski (Derek Young 62), Mark Burchill (Noel Hunt 73


Dunfermline Subs not used: Sean Murdoch, Craig Wilson, Derek Young, Greg Ross


Dunfermline Strip: Away Black Shirts and Black Socks


Dunfermline Goal Scorers: Burchill (17)



Dunfermline Yellow Card: Campbell (84)



Gretna Squad: Alan Main; Derek Collins (Gavin Skelton 85), Derek Townsley, Chris Innes, Jamie McQuilken (David Nicholls 85); Steven Tosh, Ryan Baldacchino, Ryan McGuffie, David Bingham; Kenny Deuchar, James Grady


Gretna Subs: David Mathieson (GK), Andy Aitken, David Graham




Gretna : Townsley (45+1), Deuchar (87)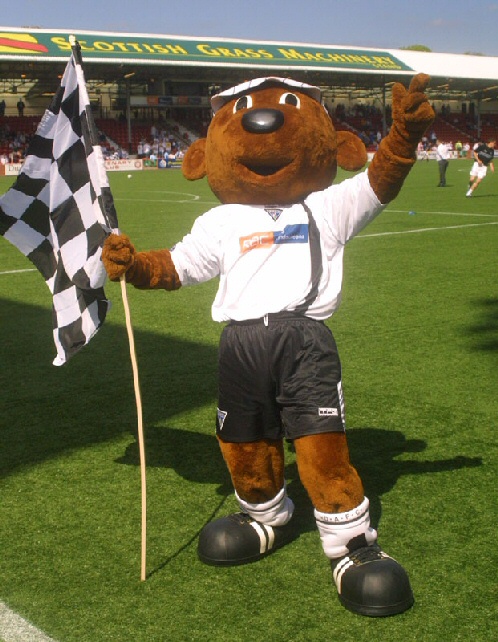 Sammy says thanks very much for visiting our web site where we have lots of news for young Pars fans.