SPL v Celtic

DUNFERMLINE 0 CELTIC 4

Date: 28/08/05

Fixture: BOS SPL Premier League

Attendance: 9244

Kick Off: 14:00

Referee: Kenny Clark

Weather: Dull, Windy 16C

It was a dismal day in West Fife and everyone turning up for this two o` clock kick off was hoping for the football to brighten up their day. Alas there was no sunshine for the Athletic faithful. After gifting Celtic a two goal start the Pars were always up against it.
Dunfermline without Greg Shields, out with a cartilage injury, bring in Greg Ross. Otherwise they are unchanged from the side that faced Livi - new signing Liam Horsted being on the bench alongside Simon Donnelly who returns after a hamstring problem.
Celtic were without the services of captain Neil Lennon and Alan Thompson following their red cards in last weekend`s Old Firm derby.
Celtic kicked off defending the goal in front of their own fans who had waved a huge colour sign supporting Neil Lennon - Celtic to the Core - it pronounced.
Dunfermline showed intent from the start with Iain Campbell`s long ball up the left being chased by Mark Burchill and Balde forcing it into the crowd. From the throw in Campbell won a first minute corner. Although the corner was disappointing Campbell was soon back in possession sending over a good ball that Andy Tod might have converted but the direction on the header was square.
Bartosz Tarachulski had a chance before coming even closer in the fourth minute after Gary Mason and Greg Ross had worked some nice play down the Pars right. After all this pressure it was well against the early play when Bryn Halliwell`s first touch involved fishing the ball out of his own net.
Maciej ZURAWSKI went on a solo run down the left flank, cutting into the penalty box before despatching a low right footed shot in a the near post. 1-0 Celtic and just on five minutes on the clock. Worse was to follow on the tenth minute. Scott Thomson sent the ball back to Halliwell and his miscued clearance fell off Wilson to HARTSON who had the very simplest of tasks to side foot the ball into the empty goal from the edge of the box.
It was five minutes on before Dunfermline got forward again. Bartosz drove up finding Ross on the right who exchanged passes with Mason before swinging over an inviting ball that just eluded Burchill`s lunge and Campbell crashed a shot that was well over the bar from 12 yards.
Another Pars corner in the 19th minute dropped nicely for Tod but the half chance was snuffed out before the jitters affected the visitor`s defence, Burchill almost cashing in on uncertainy between keeper Artur Boruc and his defence but Campbell`s crunching shot gain not finding a way through the Celtic legs.
The Pars kept up the pressure on Celtic Tarachulski winning a corner on the right after a nice right sided move. When the ball came over from the right Andy Tod was unusually deep for the 24th minute setpiece and it was he who struck a 20 yard shot that was goal bound until Telfer deflected it up for Boruc to hold.
>
Campbell`s cross towards Burchill deep on the right side of the Celtic box never reached the former Celt as he was bowled over by new boy Adam Virgo and Kenny Clark had no hesitation in awarding a penalty. Mark Burchill stepped up and hit a left footed effort low to the keeper`s left but he chose correctly and his save sent the ball behind for another corner on the right.
Balde dispossessed Campbell of the ball on the left and pumped the ball through to Zurawski and Greg Ross was penalised for his tackle on the Pole. Fortunately the free kick was sent into the McCathie Stand. With Andy Tod off the park for treatment Celtic looked like increasing their lead. Zurawski nipped down the left in 30th minute and sent over a low square ball that Nakamura smacked at goal but Halliwell was well placed even although he failed to hold the ball first time because of the power behind it.
Toddy returned but then went off for a bandage around his bleeding head. While again down to ten men Celtic again came close to scoring. This time it was Mo Camara who made ground down the left and set up Craig Beattie with a chance from six yards that he turned into the sidenetting at the near post. Hartson had a good opportunity from Petrov`s run down the right but for once luck was on the Pars side.
Half time arrived with the Parkhead club two ahead but in terms of possession, effort, corners and chances Dunfermline were closer to them than the scoreline reflected.
Hartson`s early ball to Craig Beattie created Celtic`s first chance of the second period when Scott Wilson conceded a free kick just outside the Dunfermline box on the left but Wilson redeemed himself getting away Nakamura`s delivery. Darren Young nearly took advantage of a Balde slip, Makel had a shot blocked before Darren Young made the keeper hold a driven shot from 25 yards.
Makel lofted in a free kick that Balde headed clear as Dunfermline continued to take the game to Celtic in the opening ten minutes of the second half trying to find a way through the Celtic defence that at times looked fairly desperate. A loose ball from Makel to Darren Young was stolen away by Beattie. The Scotland prospect raced away from Andy Tod before cutting back the kind of ball that Hartson usually scores with but Halliwell dropped to save and gather despite Zurawski standing over him.
The warning was there and when Zurawski showed real class to beat off Scott Thomson on the Pars right touchline NAKAMURA had made a good run to beat in position to smack into the Pars net for Celtic`s third. The visiting fans who had been subdued watching Dunfermline get so much of the game then erupted into full song.
Zurawski had the ball in the net gain but was judged offside before a fine Makel pass sent through Bartosz Tarachulski forcing his route in on goal from the right but his shot hit the advancing keeper. But with the pressure off Celtic, possibly for the first time this season, the all green kitted players then made Dunfermline chase about in efforts to win back possession.
Liam Horsted came on to make his SPL debut in the second half
When Derek Young eventually found himself deep right to cross for brother Darren but unluckily he could not turn the ball passed Borac from six yards. Noel Hunt replaced Mark Burchill in 78th minute but the difference between the sides immediately increased to four when ZURAWSKI took route one through the middle. Scott Thomson tried everything to stop the inevitable rocketing shot that gave Halliwell absolutely no chance.
Hunt headed a Makel cross over the front of the goalmouth but there seemed little way that Dunfermline were going to notch a consolation. Their ninth corner of the match seven minutes from time was not cleared effectively and Tarachulski and Makel`s perseverance set up Derek Young with a shot that Borac held.
The full time whistle was no bad thing. The Pars paid the penalty for poor defending making it easy for a Celtic team that took the confidence and translated that into a comfortable four goal victory. The missed penalty effectively ended the Pars hopes of retrieving the match. For Jim Leishman there remains the problem of finding a Pars player who can find his way onto the scoresheet even though for large parts of this game gis Dunfermline were better than Celtic.
Footnote: Scotland physio Pip Yeates returned to the Pars Technical Area for this match, for one game only, as Paul Atkinson the Club Physio was accompanying Scott Morrison for treatment in the United States. He was kept very busy with Gary Mason, Andy Tod, Derek Young and Bartosz Tarachulski keeping him involved.
Pip Yeates and Referee Kenny Clark help Gary Mason off the field
Dunfermline Squad: Bryn Halliwell; Greg Ross, Andy Tod, Scott Wilson, Scott Thomson (Liam Horsted 77), Iain Campbell; Lee Makel, Darren Young, Gary Mason (Derek Young 20); Bartosz Tarachulski, Mark Burchill (Noel Hunt 74)


Dunfermline Subs not used: Sean Murdoch, Simon Donnelly, Craig Wilson, Nick Phinn


Dunfermline Strip: Home White and Black




Dunfermline : Campbell (51



Celtic Squad: Artur Boruc: Paul Telfer, Stephen McManus, Bobo Balde; Mo Camara; Stilian Petrov, Shunsuki Nakamura, Maciej Zurawski (Aiden McGeady 90), Adam Virgo (Paul Lawson 59); John Hartson, Craig Beattie


Celtic Subs: David Marshall, Stephen Pearson, Darren Odea, Ross Wallace, Stan Varga


Celtic Goal Scorers: Zurawski (5, 74), Hartson (10), Nakamura (58)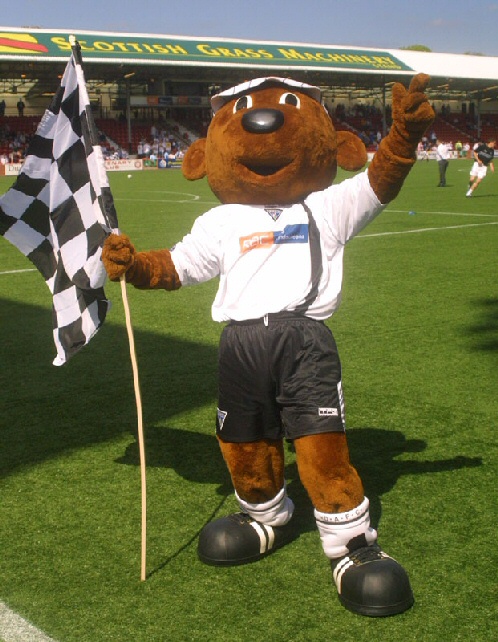 Sammy says thanks very much for visiting our web site where we have lots of news for young Pars fans.