CIS Insurance Cup v Kilmarnock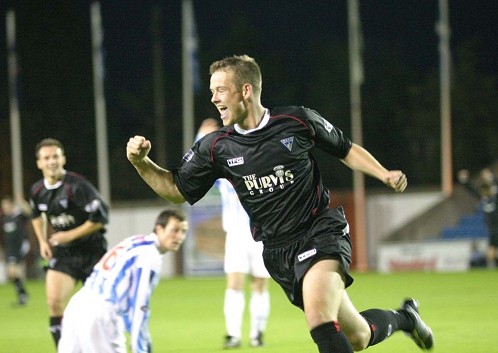 KILMARNOCK 3 DUNFERMLINE 4

Date: 20/09/05

Fixture: CIS Insurance Cup

Attendance: 3191

Kick Off: 19:45

Referee: Craig Thomson

Weather: Dry 15ºC

Two changes from the side beaten by Aberdeen on Saturday for this Third Round CIS Insurance Cup tie. Greg Shields and Mark Burchill were not fit so Aaron Labonte and Bartosz Tarachulski come in to the side that badly needed a lift. The Pars got off to another great start at Rugby Park and then it got even better. A fine pass from Darren Young sent Liam Horsted flying down the left and tested Combe with a fantastic shot that could only be parried left. A casual lay back to Jamie McCUNNIE set him up with a fine shot into the far left of the net from 25 yards.
The sixth minute lead was further extended 80 seconds later when yet again Horsted was in good position on the left receiving a Yannick Zambernardi free kick to send the ball dangerously along the six yard line and a good leap from Derek YOUNG provided a straight forward header into the net. Two nil up in less than 8 minutes away from home, is this Dunfermline?
Well it must have been, because in 16th minute the Pars went into an incredible three goal lead. A McCunnie clearance away from the Dunfermline penalty box dropped nicely for Bartosz Tarachulski and although the home fans were appealing for a foul as the Pole brushed off Greer the big striker advanced on goal and released a good shot that Combe beat away but only as far as Derek YOUNG would couldn`t fail to score from 18 yards.
Amid growing disquiet from their home support Killie managed a good Peter Leven effort from the left side of the penalty box that struck the right post with Allan McGregor beaten. The ball ricocheted across the goal and Dunfermline`s three goal advantage was intact. Jim Jeffries ears must have been burning as fans accused him off complacent team selection with "two defenders and six midfielders". Meanwhile the sparse Fife support, numbering 151 were singing about how easy it all was and "Jim Leishman" was being chanted from the Chadwick Stand.
A free kick on the edge of the box level with the penalty spot provided Killie with some hope but instead Dunfermline broke out of defence, Darren Young`s long ball putting Horsted up the left flank and in to fire a shot that squeaked wide of the right post. Within a minute Zambernardi rocketed the ball at goal from distance but right to the red shirt of Alan Combe.
Jeffries brought on Lilley for Locke in 37th minute as the tactic changed from three at the back instead of three but the Pars seemed to have found a ring of confidence and when the board was held up for one added minute there was nothing too fear.
Half time at Rugby Park and it was Kilmarnock 0 Dunfermline 3 (three).
Half time entertainment from the cheerleaders brought called questions about whether or not any of them could play right back. Certainly Liam Horsted was causing lots of problems and it didn`t really look as though Gary McDonald had any answers.
Steven Naismith, SPL Young Player of the month was introduced for Peter Leven and Kilmarnock restarted with intent and McGregor took two attempts to hold a strong Kris Boyd free kick from 30 yards three minutes into the half. On 53 minutes however Kris BOYD did beat the keeper with an easy tap in after Naismith had sprung the left side of the Fifers defence feeding Colin Nish a pass that he lashed at goal forcing McGregor into a great save that fortunately only became fodder from the parry.
Encouraged by the goal Naismith took Kilmarnock forward and from a Dodds corner from the right Horsted was relieved to turn the ball out for another when as last man on the post he got the ball trapped under his feet. He certainly didn`t have the same problem in 64th minute steaming up the left on to a Darren Young pass and reaching the byeline to cross into the six yard box. It evaded Bartosz but Man of the Match Derek YOUNG slotted in at an angle from the right to complete an impressive hattrick.
That should have settled it but an own goal when Naismith`s cross from the right was deflected into his own goal by Scott WILSON from inside his six yard box ,just nine minutes later. The home support certainly urged their side on but Dunfermline quietened that down with sturdy eleven men in defence. Wilson and Zambernardi made important interceptions and Kilmarnock with several overstruck balls, failed to create any goalscoring opportunities.
An Allan Johnson shot three minutes from time was turned his right hand post by McGregor in real style and remarkably the referee gave a goal kick. In the third minute of added time Kris BOYD drove a 25 yard free kick straight through the defensive wall to cut the deficit to one but it was too late to do anything other than change the complexion of the scoreline in a game that the Pars won easily. Tod had a chance to make it 5-3 when he was through one on one with the keeper but shot wide. This was Dunfermline`s night on the completion of four minutes of added time, it was their name that went forward to the fourth round.
This was a very different Dunfermline that pitched up in Ayrshire. Derek Young certainly did the business but it was Liam Horsted who did the damage. No likelihood of him being subbed in this match. The Pars showed up much better as a team and that augurs well for their SPL campaign and particularly the up ad coming match against Dundee United on Saturday.
Dunfermline Squad: Allan McGregor; Aaron Labonte, Scott Wilson, Scott Thomson, Yannick Zambernardi, Jamie McCunnie, Lee Makel, Darren Young, Liam Horsted, Derek Young, Bartosz Tarachulski (Andy Tod 67)
Dunfermline Subs not used: Bryn Halliwell, Noel Hunt, Greg Ross, Iain Campbell
Dunfermline Strip: Away all Black
Dunfermline Goal Scorers: McCunnie (7), Derek Young (8, 16, 64)
Dunfermline Yellow Cards: Wilson (56), Thomson (62)



Kilmarnock Squad: Alan Combe; Gary McDonald, Simon Ford, Gordon Greer; Danny Invincible, Gary Locke (David Lilley 37), Rhiann Dodds (Stephen Murray 67), Allan Johnston, Peter Leven (Steven Naismith, HT); Colin Nish, Kris Boyd


Kilmarnock Subs not used: Gary Wales, Graeme Smith (GK)

Kilmarnock Goal Scorers: Boyd (53, 93), Wilson (og 73)



Kilmarnock Yellow Card: McDonald (27)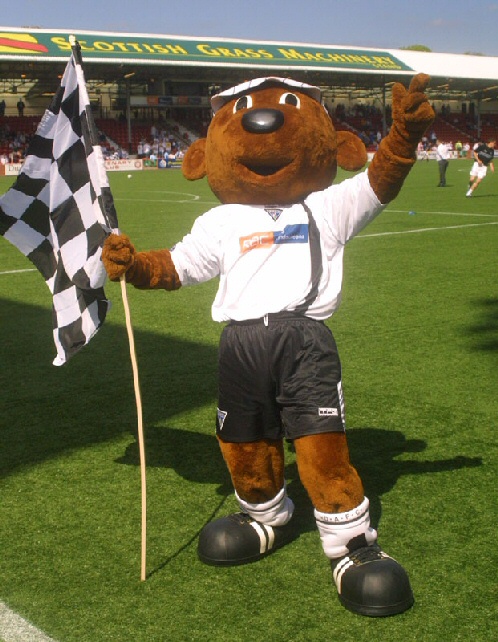 Sammy says thanks very much for visiting our web site where we have lots of news for young Pars fans.