SPL v Hearts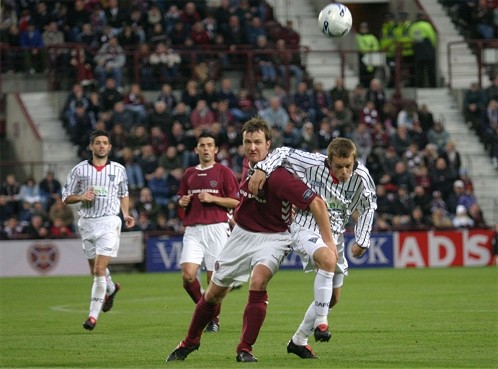 HEARTS 2 DUNFERMLINE 0
Date: 22/10/05
Fixture: BOS SPL Premier League

Attendance: 16575

Kick Off: 15:00

Referee: Calum Murray

Weather: 9°C Dull

Not surprisingly all the pre match talk was of the shock departure of Hearts Manager George Burley, announced just two hours before kick off. It is unlikely that he resigned because his unbeaten SPL record was in jeopardy but the Pars were taking any advantages they could going into this match against the league leaders.

Lee Makel returned after illness prevented him featuring against Falkirk last Saturday and Mark Burchill replaced Bartosz Tarachulski. Despite the spelling on the Hearts team sheets (and announced) the Pars had not added an Eastern European to their side; Ivan Campbell is still the son of former Pars boss Dick!
Edgaras Jankauskas kicked off with Hearts playing towards the Roseburn Stand. Hartley raised the cheers from the loud home support, earning a corner from his second minute shot. From the setpiece Rudi Skacel got in a shot that was deflected on to the crossbar and from yet another corner on the right Pressley headed narrowly wide of Allan McGregor`s right hand post.
Dunfermline won a corner through Greg Shields in the fifth minute but that was easily headed clear by Jankauskas and created the counterattack chance. Gary Mason was beaten out on the right by Pospisal and Paul Hartley racing through the middle looked certain to score but McGregor did well to block and Liam Horsted was back to drive the ball off Skacel for a goal kick. .There was just nine minutes on the clock when Jankauskas touched the ball in from the right to send Samuel Camazzola into the Pars penalty box. Fortunately his well struck shot went over the crossbar.
The game was being played at a frantic pace and McGregor did well to stop Skacel before in 16th minute Darren Young set up his brother Derek for the Pars for their first shot at goal but he was wide from 30 yards. Three minutes later receiver turned provider as Darren came even closer with a similar distance shot that was just left of goal.
Just when it looked as though the Fifers had weathered the storm and getting into the match a simple build up in 21st minute was punctuated when Jankauskas picked out Rudi SKACEL and the SPL`s top goalscorer slotted in a low shot from the edge of the box.
Hearts went further ahead just two minutes later when Camazzola gave Michal POSPISAL the chance on the right side of the Pars box. He controlled and despatched a fine left footed curler that again McGregor had no chance of stopping.
Dunfermline were finding it hard to compete with the sheer class of Hearts and strikes at goal were restricted to distant efforts. On the half hour Burchill fed Derek Young the ball and he whacked it firmly but straight to the all blue Craig Gordon. As the match calmed down the visiting support`s attentions were drawn to the efforts of the local constabulary to eject a couple of Pars fans who seemed to be doing little other than supporting their team.
Back in front of Allan McGregor`s goal Scott Thomson id well to win a header but Jankauskas` head got to the second ball and fortunately he looped it high onto the wrong side of the roof of the net. Pospisal got a half chance two minutes from the interval and his shot from 15 yards was well saved by McGregor conceding a corner on the left. When that came over unbelievably Skacel was unmarked and was allowed the chance to increase his tally but the defence blocked.
Burchill and Makel got the second half underway but after just two minutes Scott Wilson had to be substituted by Andy Tod as his eye injury sustained in the first half flared up. Hearts were soon exerting great pressure on the Pars defence with Darren Young making a telling interception. Corners were defended before the Pars won one of their own. Andy Tod got on the end of Makel`s delivery but he could only chest the ball down for Gordon.
Back at the other end Andy Webster came came with a header from a free kick awarded as Darren Young was yellow carded for his tackle on Camazzola. Neilson pumped the ball through the Pars six yard box and Fyssas fired in a shot that failed to get as far as McGregor.
Both sides made substitutions with Leishman committing his final two choices, Simon Donnelly and Jamie McCunnie. Donnelly was immediately involved in a great move that almost brought the Fifers back into the game. Mark Burchill found the sub out left and he jinked at his defender before threading the ball across the top of the area. Burchill stepped over the ball letting it roll into Makel`s path but his 71st minute effort was thrashed just over the bar.
Not to be outdone Hearts sub Deividas Cesnauskis rocketed in a shot four minutes later that narrowly missed target. Next a free kick almost paid a dividend for a training ground rehearsal. Hartley pushed a neat ball through for Skacel and the defence did really well to restrict the on loan Marseille player`s shot to an attempt that went wide of the left post.
Hearts relaxed and as the match came to a close Donnelly and Burchill with a quality move, carved out a good chance for Gary Mason but his effort as he broke into the penalty box was closed out. Drama prevailed to the end with Hearts captain Steven Pressly being red carded as he tugged Darren Young at the edge of the box. Alas Lee Makel`s shot from the free kick soared into what was left of the Fife support. So in the end Hearts recorded another win to go six points clear in the SPL.
Dunfermline didn`t play badly it was just that Hearts were that much better. Leish`s men closed Hearts down in the second half kept the game alive and could have got back into it had Makel been on target with 19 minutes remaining. Half time entertainment included the Beatles number "Revolution"; maybe they play it every week but on this showing do Hearts really need a manager?
Dunfermline Squad: Allan McGregor; Greg Shields, Scott Wilson (Andy Tod 48), Scott Thomson, Yannick Zambernardi; Lee Makel, Darren Young, Gary Mason, Liam Horsted (Jamie McCunnie 68); Derek Young (Simon Donnelly 68), Mark Burchill
Dunfermline Subs not used: Bryn Halliwell, Greg Ross, Iain Campbell, Bartosz Tarachulski
Dunfermline Strip: Home White and Black
Dunfermline Yellow Cards: Darren Young (61), Thomson (82)



Hearts Squad: Craig Gordon; Robbie Nelson, Steven Pressley, Andy Webster, Takis Fyssas; Samuel Camazzola (Deividas Cesnauskis 70), Julien Brellier, Paul Hartley (Jamie McAllister 90), Rudi Skacel; Edgaras Jankauskas, Michal Pospisal (Calum Elliot 80)


Hearts Subs: Steven Banks (GK), Saulius Mikoliunas, John Neill, Ibrahim Tall


Hearts Goal Scorers: Skacel (21), Pospisal (23


Hearts Red Card: Pressley (90)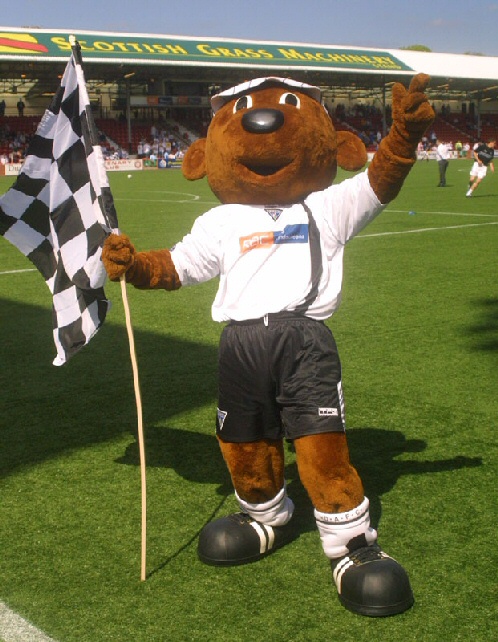 Sammy says thanks very much for visiting our web site where we have lots of news for young Pars fans.