SPL v Inverness Caley Thistle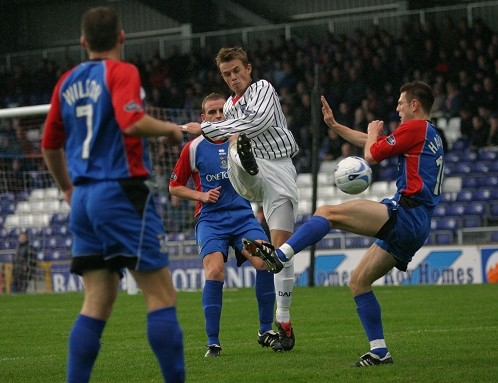 INVERNESS CT 2 DUNFERMLINE 1

Date: 05/11/05

Fixture: BOS SPL Premier League

Attendance: 3728

Kick Off: 15:00

Referee: Charlie Richmond

Weather: Changeable 10ºC

After all the speculation around team selection from the bones of what was left of the Pars first team squad there was only one change for the trip to Inverness. Aaron Labonte replaced Scott Thomson who suffered rib injuries in the match against Motherwell last Saturday. Craig Brewster came back into the Caley Thistle team as they chased their first home league win since defeating Dundee 3-2 on 16th April. He replaces the suspended Graham Bayne and Barry Wilson came in to relegate Alan Morgan to the bench.
Inverness kicked off defending the Kessock Bridge end with a stiff westerly wind sweeping across the pitch and both sides started cautiously. A poor pass from Barry Wilson in 4th minute went straight to Lee Makel and he laced the ball into the path of Darren Young but he shot, possibly too early, wildly to the right of goal. Caley took the game up the park and Wilson`s cross from the left was laid back into the path of Ian BLACK to find the net with a volley that soared passed McGregor.
The fifth minute lead was doubled just four minutes later when a speculative shot from 25 yards out by Wilson was spilled out of his hands by Allan McGregor to gift David PROCTOR goal number two from six yards. Caley forced corner when Brewster threatened at the far post before Dunfermline saw a bit more of the ball. Craig Wilson swung over a fine ball from the right that Noel Hunt rose high to head over the crossbar.
Caley had started like a team on fire and a period of Pars possession took the heat out of the Highlanders play. It was on the counterattack that Craig Dargo was taken down as Labonte arrived late to earn himself a yellow card out on the Caley left wing. From the 24th minute free kick Wilson whipped in a vicious delivery that McGregor fisted away.
The Fifers had two free kicks in quick succession wide right after fouls on Wilson and Shields but both times Makel`s ball failed to provide any fodder for the Pars attack. Inverness were now quite happy sitting in a defending their two goal lead especially as the threat to it looked fairly tame. They might have punished Dunfermline again in the 37th minute when Dargo raced up the right, picked out Proctor ahead of him and his ball in was well intercepted as Brewster lined himself up to cause further damage.
Two minutes from the break, Mark Brown in the Caley Thistle was brought into the action as Darren Young`s cross was deflected on target but easily into the hands of the grey shirted stopper. Donnelly then sent Mason scurrying in on the right side of the Caley box and Dods conceded a corner taken by Makel on the right. His short corner to Donnelly was pumped into the six yard box by Shields but to no effect and so at 2-0 to the home side at half time some of the 200 travelling fans booed their side off.
Hardly surprisingly Caley were out waiting to resume long before Dunfermline appeared but when they did they did show a bit more determination in their play. Hunt received a Young pass on the left flank and lofted in a cross that Brown had to come for. A Campbell cross was hooked out of his own box by Black and a Shields throw in escaped Wilson`s touch to be gathered by the keeper. Liam Horsted was then put on in place of Wilson.
When a free kick was awarded on the edge of the Caley box the home side dragged everyone back but luck was not with Campbell as he blasted the ball over the bar. Hunt won a corner on the right but still these set pieces failed to trouble the Caley keeper, the defensive header dropping to Campbell whose miscue was not going to change things.
By contrast Caley`s corner from Wilson was flicked onto the crossbar by Dargo. Both sides committed substitutes with Burchill replacing Darren Young and Caley freshening up their attack; McAllister and Wyness replacing Brewster and Dargo. It was Leishman that saw the changes pay dividend`s however as Dunfermline got a goal back in 73 minutes. Noel Hunt laid the ball back for Lee MAKEL and he took the chance as the home side allowed him time to look up and then pick his spot to the keeper`s right from 25 yards.
McGregor kept his side in the game with a good save from Munro and then Wyness found the sidenetting. Andy Tod was pushed up as McCunnie came on at right back and Greg Shields moved to central defence but time was running out. Hunt was worrying Caley but their defence held up.
The three added minutes at the end of the regulation 90 saw the Pars desperately trying to retrieve the situation; they had the ball in the net from a breakaway but the offside was up early. It had been a much better show in the second half but the match ended at 2-1 thanks to a 93rd minute McGregor save from a McAllister rocket.
How often in the past have Dunfermline proved to be welcome opposition for clubs out of form? There was a time when Dundee United needed a home league win and it was against Dunfermline they broke their duck, even when Rangers had gone four matches with only one win earlier this season`s SPL it was the Pars who succumbed and cheered the Ibrox fans. Craig Brewster`s Caley Thistle were pleased to defeat the Pars and get "the monkey off their backs". We hoped that 5th November was going to be a date to remember; a date when Dunfermline`s season was ignited and send their opponents` hopes up in flames. Thanks to Hibs late goal at Almondvale at least it will not go down as the day Dunfermline hit the bottom of the SPL.

Simon Donnelly suffered some harsh tackles during this match
Dunfermline Squad: Allan McGregor; Greg Shields, Andy Tod (C), Aaron Labonte, Iain Campbell; Craig Wilson (Liam Horsted 57), , Lee Makel, Gary Mason, Darren Young (Mark Burchill 71); Noel Hunt, Simon Donnelly (Jamie McCunnie 79)
Dunfermline Subs: Bryn Halliwell, Greg Ross, Yannick Zambernardi, Bartosz Tarachulski
Dunfermline Strip: Home White and Black
Dunfermline Goal Scorers: Makel (73)
Dunfermline Yellow Cards: Labonte (24), Campbell (63)



Inverness CT Squad: Mark Brown; Ross Tokely, Darren Dods (C), Grant Munro, Richard Hastings; Barry Wilson (Richie Hart 79), Russell Duncan, Ian Black, David Proctor; Craig Brewster (Dennis Wyness 70), Craig Dargo (Rory McAllister 70)


Inverness CT Subs: Michael Fraser, Juanjo, Alan Morgan, Liam Fox,


Inverness CT Goal Scorers: Black (5), Proctor (9)



Inverness CT Yellow Cards: Hastings (32), Tokely (64)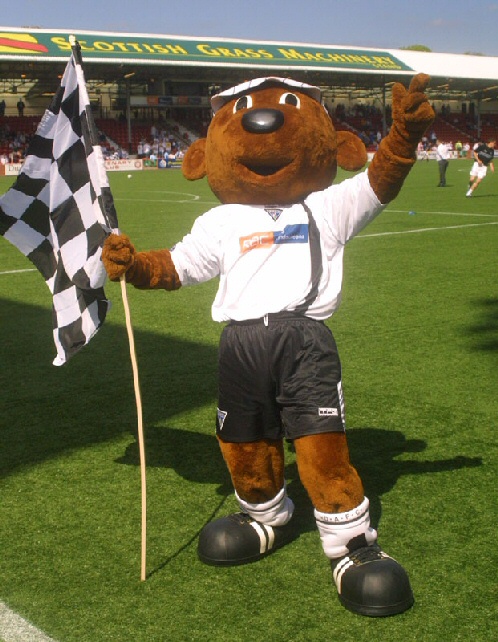 Sammy says thanks very much for visiting our web site where we have lots of news for young Pars fans.