CIS Insurance Cup v Hibernian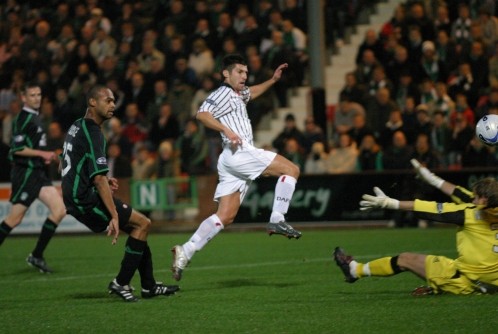 DUNFERMLINE 3 HIBERNIAN 0

Date: 08/11/05

Fixture: CIS Insurance Cup

Attendance: 6005

Kick Off: 19:45

Referee: Stuart Dougal

Weather: Dry 7C

Jim Leishman was missing Lee Makel, Darren Young and Simon Donnelly for this CIS Insurance Cup tie against the high flying Edinburgh side who had won every away match of the season since losing in their first away day at Tynecastle back in August. Greg Ross, Yannick Zambernardi and Mark Burchill came in to the injury ravaged Pars team and it was the visitors who kicked off attacking the goal in front of the extremely sparsely populated Norrie McCathie Stand.
Anyone with no knowledge of the sides would have thought in the early exchanges that it was the black and white team that were the favourites. Right from the start Dunfermline enjoyed possession with Hunt trying hard to penetrate the Hibs defence from both flanks. The Irishman`s ball in from the left drew the keeper out to grab the ball before it reached Mark Burchill. Gary Mason then got in a useful shot that slipped narrowly over the crossbar when in the seventh minute Burchill laid off a lofty Zambernardi cross.
Still Dunfermline attacked the Hibees, Ross finding Burchill, he in turn sending the ball wide for Iain Campbell. His delivery whizzed through the Hibs penalty box without a touch as the visiting fans grew increasingly worried. Their fears were not without foundation and when Gary Mason broke through the centre his pass picked out BURCHILL. He travelled into the box to finish clinically from 16 yards. Pars one up in the fifteenth minute - yes it must be the CIS Insurance Cup!
In 24th minute Dunfermline`s patient build up set up Burchill with a ball flicked on through the box to Campbell on the far side but from a promising position his return was too strong. Two minutes later David Murphy brought Allan McGregor into the match forcing him to turn a venomous low shot around his left hand post for a corner. The Pars keeper caught the cross and it was back to the other end, Burchill pouncing on a weak back pass from Hogg and driving in a powerful shot that the keeper stopped without adjusting his position.
Hibs counterattacks were being well dealt with by Greg Shields and Andy Tod in the centre of the defence but Hibs did nearer to breaking them down and there were some anxious moments that were survived as Hibs turned up the heat. Dunfermline were fighting for every ball with Gary Mason right in the thick of it.
Scott Brown barged his way into the Pars box but failed to get in a shot as McGregor moved swiftly out to collect. Hibs got closer in 40 minutes when from Brown on the left the ball was switched right by Riordan and Gary Smith sent in a cross that Dean Shiels headed over off the crossbar. The half ended with the first Dunfermline corner as the Hibs defence grew increasingly shaky.
When Craig Wilson sent over the corner from the right Malkowski dropped the ball. Hunt won it and drove from six yards and when the shot was blocked Mark BURCHILL rammed home goal number two with 40 seconds to the break.
It was a good honest shift from the Pars defying their recent form and battling hard for one another.
Half Time Dunfermline 2 Hibs 0
Tony Mowbray played what he hoped would turn out to be his trump card, bringing on Ivan Sproule for Humphrey Rudge at the restart. Dunfermline resumed with confidence however with Zambernardi thumping in a volley from an early corner that was blocked. Sproule immediately demonstrated the visitors frustrations fighting with Iain Campbell in front of the dugouts - both men worthy of their yellow cards.
Greg Shields blattered a clearance off Gary O`Connor leading to a stop in play that took the sting out of Hibs revival and prompting Leish to introduce Derek Young for Mark Burchill. In 57 minutes Noel Hunt went down in a tackle on the right wing midway into the opposition half and yet again play was stopped.
A Murphy lob in from the left almost caught McGregor and as he palmed it back Beuzelin came close to turning the ball in at the far post. Hibs committed their remaining two substitutes in 64th minute, withdrawing Riordan for Morrow and Thompson in favour of Fletcher.
As you would expect Hibs began to push hard. Dunfermline had all eleven men back for two troublesome Hibs corners causing some desperate but effective clearances. With Liam Horsted`s arrival for the crocked Campbell the Pars were able to defend by attacking and the home support were beginning to get louder and louder.
There was a let off for the Pars in 78 minutes when Greg Shields hot on the heels of Sproule down the left, slipped and the Ulsterman pushed an inviting ball into the Pars box that thankfully Zambernardi belted behind to concede a corner. That came to nothing cueing a welcoming sight of Hibs fans starting to leave their seats for the exits. Those caught in the queue to leave didn`t miss Gary O`Connor breaking through on to a Fletcher pass only for Allan McGregor to come out and pull off a great blocking save when it looked certain his first shut out was goosed.
Andy Tod was yellow carded as he gave away a free kick in a perilous position on the edge of the box but after frantic wall construction the ball was sent high into the stand. McGregor took a head knock in bravely coming out to save from O`Connor in the 90th minute and required treatment. The four added minutes for injuries might well have been twice that but Dunfermline used that to hammer home an unbelievable scoreline as Gary MASON ripped the right side of the Hibs apart and slot in a well deserved third!
Well it was not the result that either set of fans had expected but one that rewarded the East End faithful. Man of the Match had to be Mason although this was a phenomenal team effort and the sponsors gave their bottle of champagne to Mark Burchill.
The Dunfermline performance that we saw at Inverness appears to have been left in the Highlands. This was a different team from that defeated 2-1 by Brewster`s side. Those at East End for this one witnessed great team spirit and fantastic application. Now they just need to do that in the SPL.
Footnote: Mark Burchill`s second goal was Dunfermline`s 500th in the League Cup competition since it started.
Dunfermline Squad: Allan McGregor; Greg Shields, Andy Tod, Aaron Labonte, Yannick Zambernardi; Craig Wilson, Greg Ross, Gary Mason, Iain Campbell (Liam Horsted 70); Noel Hunt (Bartosz Tarachulski 86), Mark Burchill (Derek Young 55)
Dunfermline Subs: Bryn Halliwell, Nick Phinn.
Dunfermline Strip: Home White and Black
Dunfermline Goal Scorers: Burchill (15, 45), Mason (93)
Dunfermline Yellow Cards: Campbell (50), Tod (85)



Hibernian Squad: Zbigniew Malkowski; Gary Smith, Humphrey Rudge (Ivan Sproule HT), Chris Hogg, David Murphy; Gary Caldwell, Scott Brown, Dean Shiels, Kevin Thomson (Steven Fletcher 64), Gary O`Connor, Derek Riordan (Sam Morrow 64)


Hibernian Subs: Simon Brown (GK), Stephen Glass,


Hibernian Yellow Cards: Sproule (50), Beuzelin (77)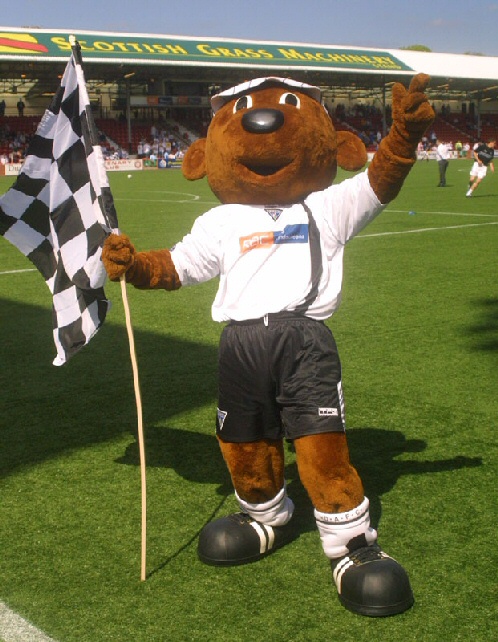 Sammy says thanks very much for visiting our web site where we have lots of news for young Pars fans.