SPL v Celtic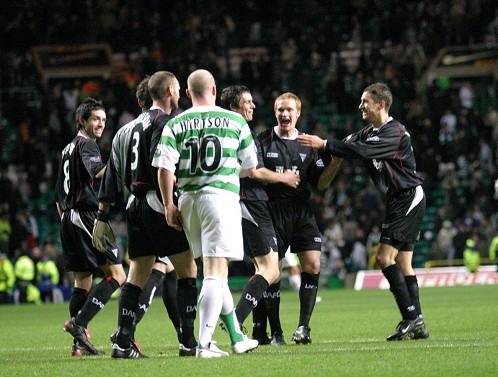 CELTIC 0 DUNFERMLINE 1

Date: 26/11/05

Fixture: BOS SPL Premier League

Attendance: 58203

Kick Off: 15:00

Referee: Craig MacKay

Weather: Dry 6C

After seven consecutive SPL defeats the trip to Celtic Park was hardly the one that anyone expected the Pars fortunes to change in. As Gordon Strachan`s table toppers faced Jim Leishman`s in 12th placed side it was no surprise that the Fifers were long priced outsiders at 16-1 against to win. One tactical change and one change because of injury meant that Leish brought in Aaron Labonte and Jamie McCunnie for Iain Campbell and Craig Wilson. Greg Shields was played in a sweeper role and McCunnie came in at right midfield. Captain Scott Wilson and Andy Tod had the task of marking Chris Sutton as he returned for his first match since 30th October, alongside top scorer John Hartson..
The teams lined up around the centre circle and there was 60 seconds of applause in celebration of the late George Best`s contribution to football. Celtic kicked off but it was the Pars who were immediately on the attack forcing a corner after just 30 seconds when Labonte and Noel Hunt forced their way forward up the right. Although nothing came from the corner that eventually was lofted over by Derek Young it was an encouraging start.
Celtic then took a grip of the game but despite their commanding possession they found it tough trying to break through the Pars defence as they strung five men cross the back. On the counterattack Mason and Zambernardi broke down the left to set up Noel Hunt for a header that unfortunately was not on target.
As if Dunfermline`s injury worries were not enough, they were forced to bring on Iain Campbell in the 14th minute when Yannick Zambernardi damaged an ankle in a challenge that Celtic might have capitalised on had they not been so hesitant on the edge of the Pars box.
Campbell`s impact was immediate. Fouled for a free kick just inside the Celtic half on the left touchline the youngster exchanged a pass before picking out Andy Tod on the far side of the box and Greg ROSS ran on to his header to slot past Boruc from inside the six yard box. The visitors celebrated their 17th minute goal way way out at the left corner flag as Celtic Park observed an eerie silence.
Dunfermline did not let Celtic settle. Faced with a surprising amount of room in midfield they continued to push forward and Ross should have notched a second in 25 minutes. After series of passes strung sweetly together Derek Young`s ball into the path of Labonte again sprung the left side of the Hoops defence lacing the ball for the youngster but the keeper this time blocked and recovered to pull off a terrific save from Hunt with a fiercely struck follow up.
With the Celtic fans growing increasingly frustrated McCunnie`s short taken corner was crossed for Toddy to head on target and Balde was called upon to make a good headed clearance. Greg Ross was having a great match in the centre of the park as Dunfermline won yet another corner. Celtic were troubled as the Pars chased every ball and invariably mopped up the second ball before their hosts.
Anything that the league leaders through at the Pars was easily dealt with and Allan McGregor had not save of any consequence to make. Hartson was poised to pick his spot with just three minutes to the break but his shot took a deflection that was easily swept up by the grey shirted keeper. The half end with McGregor hovering in the middle of his half as Dunfermline defended in the Celtic half. So Dunfermline went in one up at the interval and their performance had one wondering where some of the Celtic players had been in the first half. Stillian Petrov, Alan Thompson and Aiden McGeady had been particularly anonymous. One just had to hope that would continue.
Half Time: Celtic 0 Dunfermline 1
When the second half started again Hunt and Labonte`s presence in the Celtic half forced an early corner and Boruc was less than convincing as he palmed away Campbell`s inswinger. Six minutes into the half McGregor had his first real save of the match as Aiden McGeady rocketed in a shot that the keeper grabbed as it came back off his chest.
The home support was encouraged as Petrov`s shot from a McGeady lay off was deflected wide for a corner on the left but heir frustrations grew as their favourites failed miserably to capitalise. The miniscule Pars support were singing Jim Leishman`s name as Celtic failed to find the route to goal. Sutton headed a Thompson delivery straight at McGregor and then was penalised for pushing as he tried in vain to get on the end of a McManus ball.
Passing the hour mark Celtic continued to press and Dunfermline continued to defend resolutely. Mason hooked away off the chest of Petrov before Strachan tried a touch of Majiec introducing Zurawski for Thompson in 63 minutes. Pressure was taken off the defence as Hunt, Labonte and McCunnie pushed up the right before switching left to Campbell to cross a useful ball that Derek Young got his head to and Balde had to head clear.
Celtic headed over from a 71st minute corner and McGregor enjoyed the whistling as he took his time with the goal kick. There were 60,000 anxious home fans as Balde`s challenge on Young disrupted play for treatment. Sutton`s appalling effort high over the target from the edge of the box further annoyed the troops.
Gary Mason had a timely steal off the toe of Sutton before Celtic were denied what looked like a certain penalty when McManus stumbled over Scott Wilson on the left side of the penalty box. Next Hartson headed over when it looked like a goal was coming and as the 80th minute arrived, the Pars continued to soak up Celtic`s efforts.
Chris Sutton`s header wide right heralded the start of the exodus of unhappy home supporters, some pausing to see a Celtic free kick sent into the Pars six box. Toddy headed wide and McGregor kicked clear before Hartson sent the ball past right. Still Celtic pushed with Balde and even keeper Boruc going forward!
What a game. Dunfermline played out of their skins and there could have been little left of the Pars supporters nails by the end of the second half with its three added minutes. The players were jubilant at the final whistle as you`d expect and Jim Leishman shook every Pars hand as the Hoops trooped in to boos from their fans.
The travelling supporters were retained in the ground for safety reasons but they enjoyed the celebratory sing song and loudly cheered Hamish French as he led out the players for the warm down.

Click image for slightly bigger image
Dunfermline Squad: Allan McGregor; Aaron Labonte, Andy Tod, Greg Shields, Scott Wilson, Yannick Zambernardi (Iain Campbell 14); Jamie McCunnie, Greg Ross, Gary Mason; Noel Hunt (Bartosz Tarachulski 78), Derek Young
Dunfermline Subs: Bryn Halliwell, Craig Wilson, Nick Phinn, John Dunn.
Dunfermline Strip: Away Black Shirts and Black Shorts
Dunfermline Goal Scorers: Ross (17)





Celtic Squad: Artur Boruc; Paul Telfer, Bobo Balde, Stephen McManus, Mo Camara (Stephen Pearson 77); Stillian Petrov, Neil Lennon, Alan Thompson (Maciej Zurawski 63), Aiden McGeady; Chris Sutton, John Hartson


Celtic Subs: David Marshall, Adam Virgo, Paul Lawson, Ryan Conway, Didier Agathe,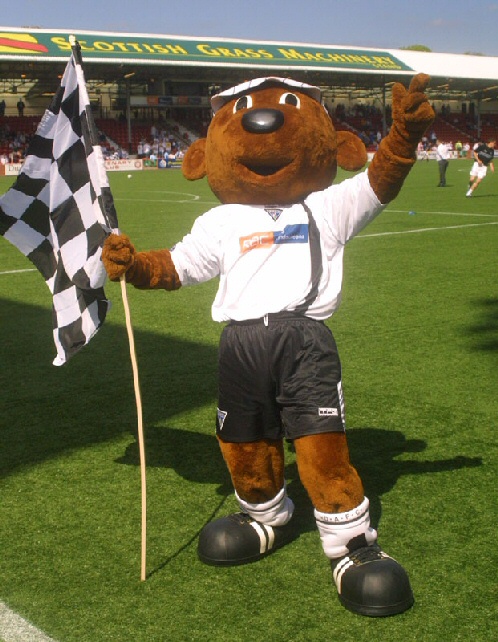 Sammy says thanks very much for visiting our web site where we have lots of news for young Pars fans.