SPL v Motherwell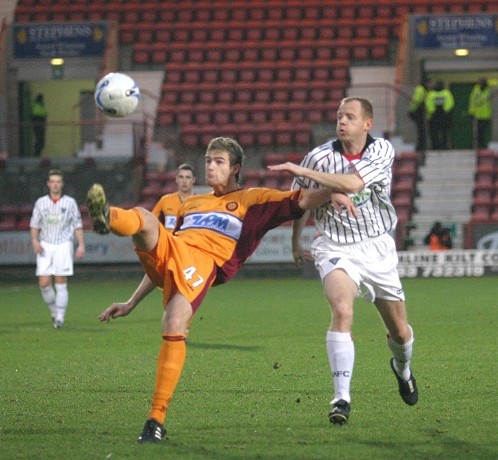 DUNFERMLINE 1 MOTHERWELL 1

Date: 28/01/06

Fixture: BOS SPL Premier League

Attendance: 4961

Kick Off: 15:00

Referee: Kenny Clark

Weather: Dry 7C
Dunfermline brought in new boy Scott Muirhead meaning Craig Wilson dropped to the bench in the only change from Wednesday night`s team at Easter Road. Motherwell had Colin Meldrum in goal instead of Graeme Smith, the keeper`s first SPL start since letting in five against Dundee United in August, and Brian McLean started in place of Willie Kinniburgh.
Dunfermline kicked off with Young and Burchill playing towards the sparsely populated East Stand. The match got off to a fairly tentative start with Motherwell possibly having the most of the opening ten minutes until a Jamie McCunnie pass was cleverly diverted towards Noel Hunt there was a half chance but Jim Hamilton was back to mop up.
The Pars looked shaky as Scott Wilson`s defending produced an opportunity for a showy overhead kick that went straight into the arms of Allan McGregor. On the break Noel Hunt was sent down the right and in typical Hunty style he took on the defence to win the chance to set up Darren YOUNG with a cut back. Darren had not forgotten how to find the net since it was only four days ago. He expertly slipped the ball in at the far post and the Pars were into an 11th minute lead.

Darren Young fires in Dunfermline`s goal against Motherwell
Six minutes later another slick break saw Hunt pick out Donnelly and his shot destined for the same corner of the Motherwell net was well saved by Meldrum. Next Young supplied Hunt with fine chance but amid cries for offside from behind the goal Noel blasted the effort high and wide.
As the match marched towards the half hour the visitors were seeing more of the possession and Jim Hamilton was presented with a free header that he sent wide left and both Scott McDonald and Jim Hamilton kept McGregor in action with shots that barely tested him. Alan McCormack had a shooting opportunity ten minutes from the break but screwed it wildly to the right.
At this stage Dunfermline were being well and truly pinned back and there was a huge sigh of relief when McDonald played Richie Foran into the box and he released a well struck post that only the right goalpost kept out. Following up Kevin McBride spectacularly rocketed the ball into the McCathie Stand. Two minutes later the same player sent the ball over the Pars crossbar from 20 yards.

Noel Hunt (left) and Scott Muirhead (right) challenge for the ball wherever that might be!
McDonald forced McGregor into another fine save in the 40th minute and it looked like the half time whistle could not come quick enough. Hammell pumped in a corner from the right and McGregor dived low to his left to deny Hamilton`s header. As the board went up for two additional minutes McDonald shot on target but against McGregor held easily.
Half Time: Dunfermline 1 Motherwell 0
A free kick on the right saw Muirhead and Donnelly hatch a plan for the latter to receive the ball on the edge of the box but Muirhead`s shot failed to beat Meldrum. In 49 minutes McLean downed Burchill on the top of the D, no red card in fact no card of any sort and no goal as Darren Young`s attempt was stopped by the Motherwell wall.

Scott Muirhead wins an award from Referee Kenny Clark
Just as it looked as though the Pars had weathered the visitors storm Motherwell struck back. Greg Shields was outdone on the left wing as he tracked Scott McDonald back and a cross through the six yard box was tapped back by Kevin McBride for Jim HAMILTON to beat McGregor from four yards.
Back at the other end a Muirhead corner in from the right was met with a glancing header by Burchill but Meldrum pulled off a spectacular save and then a swift change let McDonald in for a shot from 20 yards that rattled the crossbar. Dunfermline were looking far from comfortable as Donnelly was replaced by new signing Andy Campbell from Cardiff City.
Still it was the claret and amber that threatened the scoreline with Steven Hammell forcing a great save out of McGregor from 35 yards. It wasn`t until the 69th minute that the home side produced much to cheer about. Hunt rode the defence in from the right, feeding Darren Young whose lay off to Muirhead was thumped low and hard from 35 yards forcing Meldrum to save with a dive to his left.

New signing Andy Campbell forces some acrobatic defending from Motherwell
Scott Thomson came on at right back to take over the McCunnie role with 20 minutes to go. Dunfermline were struggling to contain Motherwell, they did not look like the same side that started the game and there was some hairy moments in the defence as the visitors continued to get the ball into the Pars penalty area.
When McDonald and Hamilton carved open a passage in on goal it was the desperate boot in from Zambernardi that prevented Motherwell converting from close range. Leishman committed the last of his subs with eight minutes to go; Stephen Simmons coming on for Scott Muirhead who had contributed much in an impressive debut.
A Campbell break started a ping pong session around the Motherwell box with Burchill pumping balls in for Hunt to eventually head wide. Simmons had a glorious opportunity to score on his debut but Meldrum was off his line fast to anticipate the chance as it fell from Burchill.
No more chances, no more goals, so it finished 1-1 with the Match sponsors Purves Group awarding Alan McGregor the Man of the Match Award.

Stephen Simmons in for a late chance to shine
Craig Robertson Post Match Interview
Andy Campbell Post Match Comment
Stephen Simmons Post Match Comment
Scott Muirhead Post Match Comment
Celtic at Home 18/02/06 Ticket Info
Dunfermline Squad: Allan McGregor; Jamie McCunnie (Scott Thomson 70), Greg Shields; Scott Wilson, Yannick Zambernardi; Darren Young, Gary Mason, Simon Donnelly (Andy Campbell 57), Scott Muirhead (Stephen Simmons 83); Mark Burchill, Noel Hunt
Dunfermline Subs: Bryn Halliwell (GK), Craig Wilson, Iain Campbell, Greg Ross
Dunfermline Strip: Home White and Black
Dunfermline Goal Scorers: Darren Young (11)


Motherwell Squad: Colin Meldrum; Martyn Corrigan, Steven Craigan, Brian McLean, Steven Hammell, Brian Kerr, Alan McCormack, Kevin McBride; Richie Foran, Jim Hamilton, Scott MacDonald (Steven McGarry 88)


Motherwell Subs: Alan Martin, Shaun Fagan, Mark Fitzpatrick, Adam Coakley, Darren Smith, Mark Reynolds


Motherwell Goal Scorers: Hamilton (53)

Motherwell : Hammell (75)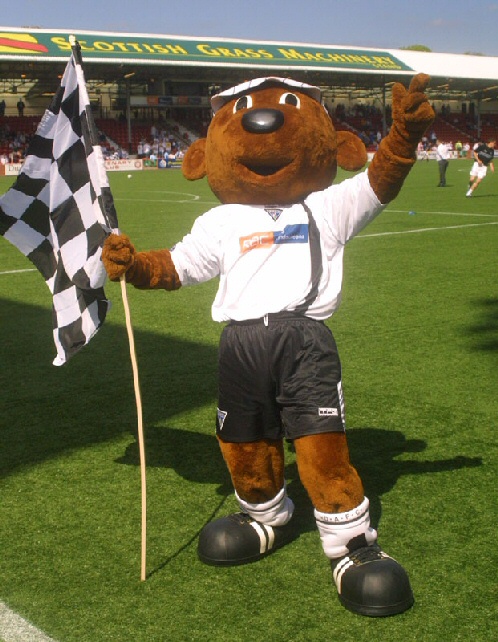 Sammy says thanks very much for visiting our web site where we have lots of news for young Pars fans.